Hobby Elements Micro Round Files Review
| | | | |
| --- | --- | --- | --- |
| Date of Review | May 2015 | Manufacturer | Hobby Elements |
| Subject | Micro Round Files | Kit Number | HE5003R05 |
| Primary Media | High quality material | Pros | Get into very confined spaces |
| Cons | Nothing noted | MSRP (USD) | $20.00 + postage |
Review
You may remember our review of Hobby Elements' Molding Flash Sander bits which have become a regular tool set on my bench. Hobby Elements has released several new tools which are even more interesting. Let's take a look: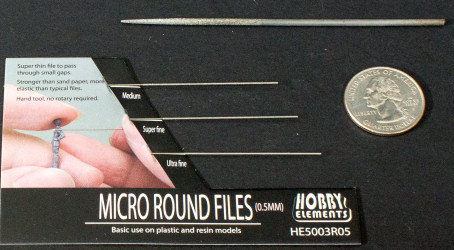 This set contains three micro round files which you can see next to a US quarter and one of my other microfiles. Look closer at this image above (click for a larger view), the files are the tiny extensions near the quarter and the larger flat surfaces are actually the handles taped to the display card. Each file is only 0.5 milimeters in diameter and has medium, fine, and very fine grits from .15mm to .20mm on those tiny surfaces.
I have a project on the bench that is nearly ready for final paint and final details. I used these files to access wheel hub and landing gear oleo details where my other files cannot reach and knock down mold lines that would normally be ignored.
These files can reach into areas on your projects where even my current microfiles will not go. These files are very flexible but you can still break off a tip if you push the tip into an obstacle (I've done this with thicker files). Check them out on their Facebook page for more information.
Definitely recommended!
My sincere thanks to Hobby Elements for this review sample!