HobbyZone Modular Workshop System OM03 Corner Drawers Module Review
| | | | |
| --- | --- | --- | --- |
| Date of Review | March 2016 | Manufacturer | HobbyZone |
| Subject | OM03 Corner Drawers Module | Part Number | OM03 |
| Pros | Precision cut wood | Cons | See text |
| MSRP (USD) | $41.95 | | |
Review
Here is another quick and easy addition to your workbench. This is the HobbyZone OM03 Corner Drawers module that can work on its own or part of the Modular Workshop. The kit consists of 40 wood parts, four clear parts, and eight magnets. This module might have been more challenging if it was the first module I built in this series but I started with the OM01, so this module fell together with ease. Assembly took only a few minutes from assembly to set-aside for glue drying.
First, insert the magnets into the pre-drilled holes in the left and right sides (two each) and two each for the top and bottom. The magnets are not marked for polarity, so I inserted two from the top of the horizontal pieces and two each from the left side of each side piece. I gently hammered each one into place. Using a module I had built previously, I identified which surfaces needed to be where and glued up the case.
I used Gorilla non-foaming Wood Glue (white glue) to assemble the main case and I followed the instructions with no problems. When all was together, I used clamps to keep everything tight while the glue dried. While these parts fit tightly dry, they need a little help when glue is introduced into the joints. While the case was drying, I built up each of the five drawers. The tall middle drawer has a set of dividers that can be put inside for whatever you wish to keep in there. I opted to keep the dividers out as I find that drawer perfect for holding plastic paint mixing cups. The other four drawers are identical to the drawers in the OM01 module and are interchangeable.
With the unit fully assembled, it is ready to join the other modules and add five drawers of storage to my bench.
Here's a look inside some of the drawers, one has disposible microbrushes which are handy for a variety of tasks, one has a supply of cotton swabs which I use to clean my airbrushes, and one has punches for those essential scratchbuilding tasks. As mentioned above, the tall drawer holds plastic mixing cups.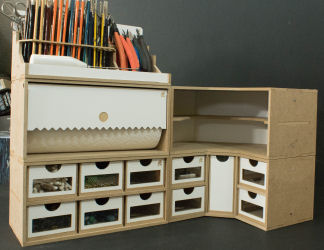 Here's my OM03 Corner Drawer Module along with the OM04 Corner Shelves Module, OM01 Six Drawer Module, OM08 Paper Towel Module, and OM07 Brushes and Tools Module. Now it is time to add the OM06b Corner Paints Module atop the corner shelves module and then build out more modules to the right.
These modules are fun and easy to build. If you're organizing a larger space, you'll be building more modules but look at the bright side - you're building stuff on your bench, and when you're done, you're going to have an awesome bench!
You can see this and other modules at the HobbyZone website ( www.hobbyzone.biz) and on their eBay Store. Stay tuned as we build up other modules and see what we can do with them to organize the bench!
My thanks to HobbyZone.biz for this review sample.