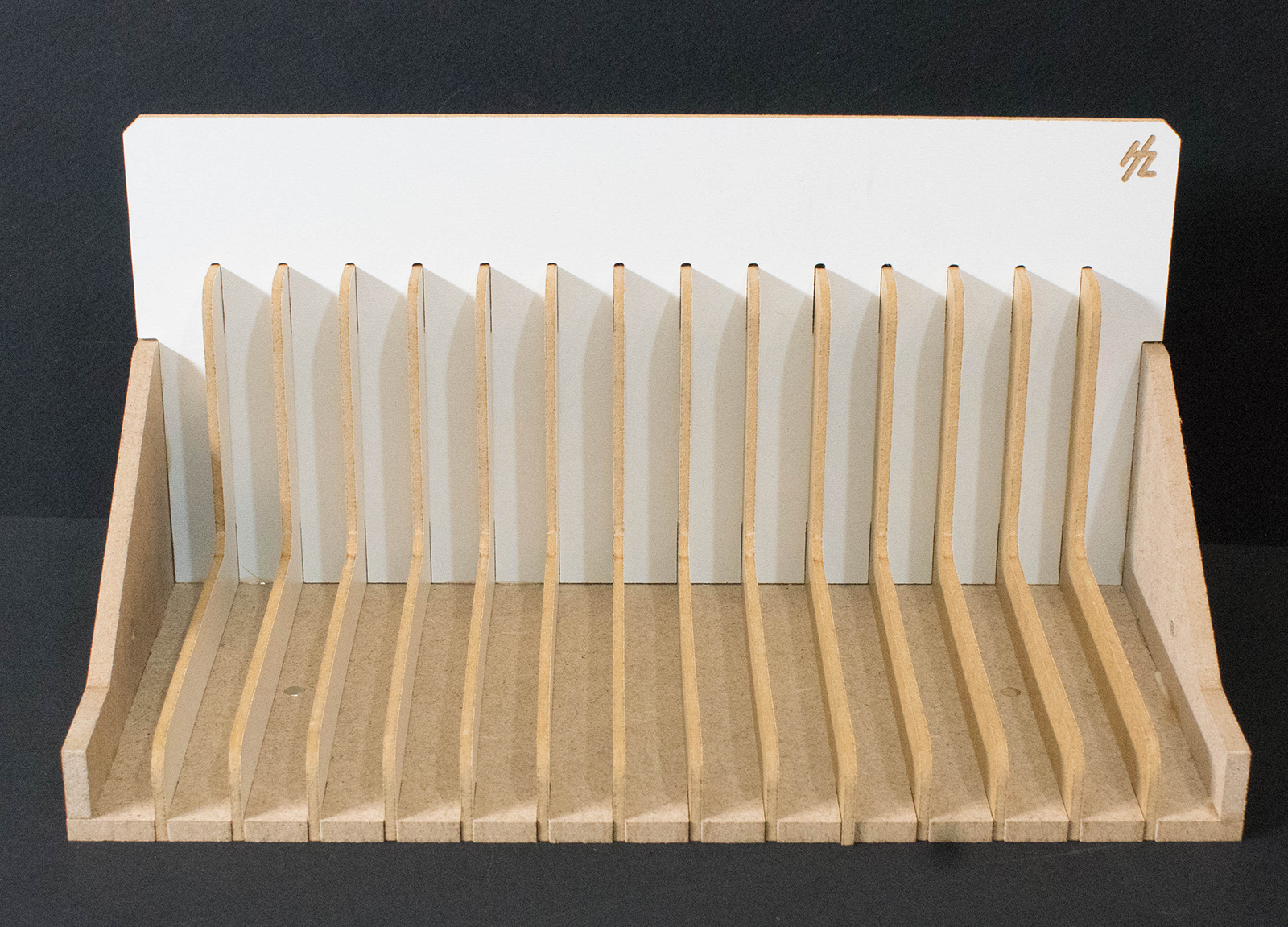 HobbyZone Modular Workshop System OM13 Sprue Rack Module Review
| | | | |
| --- | --- | --- | --- |
| Date of Review | March 2018 | Manufacturer | HobbyZone |
| Subject | Sprue Rack | Part Number | OM13 |
| Pros | A nice alternative to stacks of trees in the box | Cons | Nothing noted |
| MSRP (USD) | $13.95 | | |
Review
HobbyZone recently released a new module for their Modular Workshop System, the OM13 Sprue Rack. Like the OM07 Tools and Brushes Module and any of the OM05 Paint Rack Modules, this module is set up to magnetically lock atop your storage modules using magnets provided in the kit. Produced from precision CnC'd MDF wood, this rack provides 15 slots to hold your sprue trees, sheet styrene, or other vertically storable supplies. Have something wider than those slots? Each of the dividers are removable so you can tailor the rack for any given job.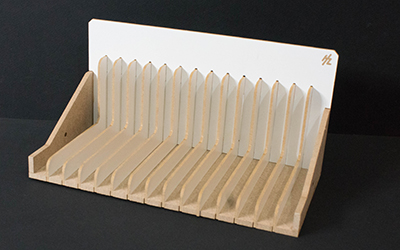 Assembly is quick and easy and also includes the magnets to allow these modules to 'snap' together. I used Gorilla non-foaming Wood Glue to assemble this module, and like all of the other modules on my bench, this one is robust. So far, I have yet to break any of my modules. The photo below shows the rack holding all of the sprues out of a 1/48 scale Hasegawa F-104 Starfighter kit. There is still room in there...
The problem on my bench is that there is no room atop my modules, but I decided to put this rack on my desk where I can move it around where needed, just like my trusty PN01 Tool and Brush Holder next to it (below).
The sprues in the photo above are out of the Monogram 1/48 Ju 52/3m kit, so you know these are large. When I finished washing my sprues, I set them into this rack to air dry and there wasn't a problem with moisture. That may change over time, but these racks are inexpensive. With the trees in easy reach, I'm not sorting through trees piled in a box and getting my hands on cleaned parts. It does require one to have a little extra room on your work surface, but since I do, I find the easy visual access to these trees a new enhancement to my assembly workflow.
You can see this and other modules at the HobbyZone website (www.hobbyzone.biz) and on their eBay Store. Stay tuned as we build up other modules and see what we can do with them to organize the bench!
My thanks to HobbyZone.biz for this review sample.