HobbyZone PM01 Acrylic Painting Palette Review
| | | | |
| --- | --- | --- | --- |
| Date of Review | February 2016 | Manufacturer | HobbyZone |
| Subject | Acrylic Painting Palette | Part Number | PM01 |
| Pros | Handy tool for mixing and applying acrylic colors | Cons | Nothing noted |
| MSRP (USD) | $10.95 | | |
Review
Here is another quick and easy addition to your workbench. This is the HobbyZone PM01 Acrylic Painting Palette that has a number of wells in which to place paint, mixed paint, and thinner to create colors as needed to bring a figure or special feature to life.
This palette consists of three pieces: a machined wood base, a machined acrylic palette, and a green buffing pad to clean the acryilc palette between uses. The wood base provides a stable platform to work from and will keep the palette from shifting even during energetic mixing. The wood base also has two carved slots to hold paint brushes. Note that you should not wash the wood base.
The acrylic palette is uniquely shaped to fit snugly into the wooden base and has eight small wells, six medium-sized wells, and two large wells machined into the surface of the acrylic plate to create the palette. Simply remove the palette from the wood base and use the green pad under warm water to clean the palette for the next use.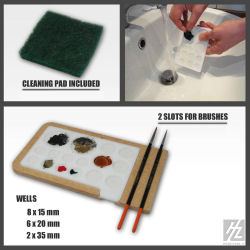 You can see this and other products at the HobbyZone website ( www.hobbyzone.biz) and on their eBay Store. Stay tuned as we build up other modules and see what we can do with them to organize the bench!
My thanks to HobbyZone.biz for this review sample.