Workbench 3.1: HobbyZone Modular Workshop System Update
| | | | |
| --- | --- | --- | --- |
| Date of Review | May 2017 | Manufacturer | HobbyZone |
| Subject | HobbyZone Modular Workshop System | Part Number | Multiple |
| Pros | Precision cut wood | Cons | Nothing noted |
Update
Last March, I decided to take the plunge and transform my hobby workbench using the modules from HobbyZone. You may recall that I wrote about my experiences here. Some time later, the plastic folding tables I had been using for my workbench surfaces began to fail, so I took that opportunity to not only replace the tables with heavy-duty wood folding tables, I also revised my workbench storage which is covered here. After logging more bench time with these modules, I began to fine-tune the items that needed to be stored in these modules versus those that would be better served elsewhere. That's when another problem surfaced that these modules could solve.
While I used to build 1/72 aircraft, my eyesight and preferences have shifted over the years to the larger scales, and while 1/32 is more fun for me, the shelf space needed to display the completed models is insufficient (a problem for another day). My primary areas of interest are 1/48 and 1/32 aircraft, 1/35 armor and rotary wing, real space and science fiction in any scale, and the periodic exceptions to the above. Like many of you, I've been enjoying the nice flow of aftermarket resin external stores for aircraft as well as the detail sets for armor. Many of these come from familiar names like AMS Resin, Zactomodels, Eduard, videoaviation.com, and more. In addition, we have injection-molded styrene external stores and detail sets from companies like Hasegawa, Kinetic, Meng, etc. I tend to acquire many of these for future projects given that some sources do not keep a reliable stock of items once the initial releases have sold out. As a result, I had a problem with all of the small boxes and plastic packaging that needed a better way to organize.
Before
After
The solution was simple enough, add another level to my modular workbench using OM01a six-drawer modules. Also like many of you, I had been using the hardware parts organizers with the small plastic drawers to organize smaller parts but they don't work so well with a stash of 1/48 Sidewinders, much less the various 1/48 weapons based upon the Mk.84 2000 pound bomb. The OM01a drawers are much larger than the plastic parts drawers and can handle the storage volume that these scale weapons can consume and even work well with the 1/32 equivalents (which I also keep on hand).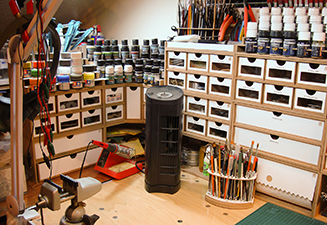 As you can see, the stack of modules has grown by one level providing that needed storage volume. The left side of the system remains at two levels providing room to grow, if needed, as well as easy access to the storage shelves behind. I've also added another OM13 Storage Hutch to the left of the OM08 Paper Towel Module providing additional bottle and tool storage to keep the bench surface clear.
Paint and tool storage across the top remains unchanged, though you can see I've finally found a solution for the dead space between the bottom shelf of the OM05u Paint Shelves and the bottom of the modules. Now I store my paint pens and oil marker pens used for paint modulation, as well as clips for holding smaller parts while they dry.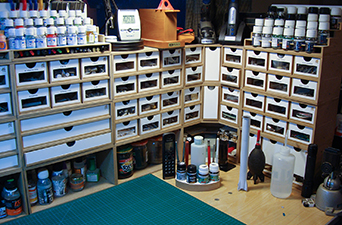 Looking at the right side, I've added an OM01b Three-Drawer Module to the bottom which provides even more storage volume for the various LEDs and resistors I use in lighting projects. These drawers freed up an OM01a for use with external stores storage.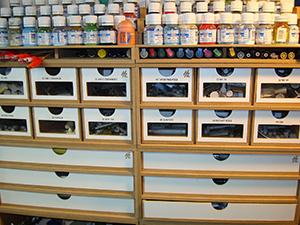 Looking closer at the OM05u modules holding my Akan paints, the gap between the bottom shelf and the bottom of each module is ideal for storing my paint pens and markers.
Looking into some of the drawers, you can see my aftermaket external stores are easier to find and put to work. While this might seem like a bit of overkill, remember that the cost of one of these modules is about the same as one or two of these external stores sets which provide a more reasonable method of storage on my bench.
Stop by HobbyZone USA for the latest storage solutions for your own hobby bench!