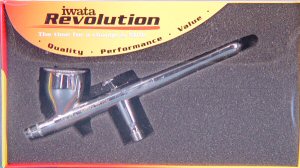 Iwata Revolution CR Airbrush First Look
| | | | |
| --- | --- | --- | --- |
| Date of First Look | November 2004 | Manufacturer | Iwata |
| Subject | Revolution CR | Pros | Precision double-action airbrush, nice balance |
| Cons | | MSRP (USD) | $129.95 |
First Look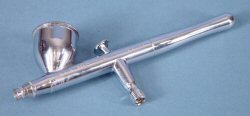 Iwata Revolution CR
For those of us who've been modeling 'a while', there have been only two choices for airbrushes - Pasche and Badger. In fact, I own one of each. The Pasche single action airbrush is elegant in its simplicity and is excellent for airbrushing large surface areas. My Badger 150 double action airbrush was used for more precise work, but it began leaking in places it shouldn't and after swapping out various replacement parts, nothing would revive it.
A single action airbrush is one that airflow is controlled by pushing down on a trigger on the top of the brush, whilst paint flow is controllable by twisting the flow tip in and out of the airstream.
A double action airbrush is one where airflow is controlled by pushing down on the trigger and paint flow is adjusted by moving the tigger forward or back which moves a needle valve.
A bottom feed airbrush is one where a removable cup or bottle is attached to the bottom of the airbrush and the vacuum caused by the venturi effect of airflow over the tip draws paint up into the airstream.
A gravity feed airbrush is one with a cup on top of the airbrush where paint flows down into the airstream by gravity and controlled by a needle valve.
When I first heard of Iwata airbrushes, I was a bit skeptical that they could have a tool that was much different than what was readily available from Pasche or Badger, but I was wrong. When my Badger 150 finally gave up, I bought the gravity feed, double-action Iwata Revolution CR. Straight out of the box, this airbrush was comfortable to hold. It comes with a metal rear handle which provides the brush excellent balance in the hand. I had to buy aftermarket metal handles to achieve the same feeling for my Badger and Pasche airbrushes.
After using the Iwata Revolution CR for a while, I'm spoiled. The design of the airbrush make cleaning the Iwata much easier than the Badger. Regulating air and paint flow with the trigger is smoother as well. So far, the Iwata has made airbrushing a joy again.
This airbrush is well-suited for covering larger surfaces. It's precision control makes the primer coats, base coats and color laydown easy. It works well with the thinned mixtures of enamels, acrylics and lacquers that I am accustomed to with my previous airbrushes.
If you are need an airbrush to cover larger surface areas and you're tired of the hassles your current airbrush is giving you, then this is the airbrush for you! Don't let the suggested retail price dissuade you as the street price and many prices on the internet are lower.
You can find the Iwata Revolution CR at your favorite hobby shop and if not, they can special order it for you. In the meantime, you can read more about these and the other cool products from Iwata by visiting their website at http://www.iwata-airbrush.com/