Iwata Hi-Line HP-AH Airbrush First Look
| | | | |
| --- | --- | --- | --- |
| Date of First Look | November 2006 | Manufacturer | Iwata |
| Subject | Hi-Line HP-AH | Pros | Precision double-action detail airbrush, excellent control |
| Cons | | MSRP (USD) | $315.00 |
First Look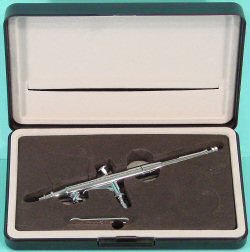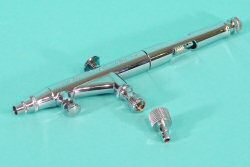 Iwata Hi-Line HP-AH
I was amazed how time flies when I noted that I'd been using my Iwata Eclipse HP-CS now over two years ( reviewed here). I was also amazed how in these last two years that I have not used any other airbrush brands aside from some quick trials. Once I started using the Iwata, nothing else feels right to me. The HP-CS is my workhorse, but I use my Revolution TR2 ( reviewed here) for larger jobs. But what about the smaller detail and touch-up jobs?
Iwata was kind enough recently to send out this airbrush out of their Hi-Line series. If the Revolution was their 'entry-level' series and the Eclipse their mid-range, then this Hi-Line is one of their specialty lines. In terms of tools, this is definitely a precision instrument. I can see where custom auto painters and nail salons would love this as it provides a degree of control not available on other airbrushes. Before we go there, first a tutorial on this Hi-Line series:
The HP-CH has 7 milliliter paint cup fixed atop the airbrush and an 0.3mm nozzle
The HP-BH has a 1.5 milliliter paint cup fixed atop the airbrush and an 0.2mm nozzle
This HP-AH has a 0.4 milliliter 'cup' (a recess atop the airbrush) and the 0.2mm nozzle
If you're wanting to paint camouflage on your aircraft or tank project, this is NOT the airbrush for you. Look at one of the Revolutions or Eclipses for that duty. If you're wanting to paint fine panel line shading or fine rust lines, or apply fine color details, then read on.
With a 0.2mm nozzle, this airbrush can get close and precise on any project (as long as you haven't consumed too much caffeine that is). While I am used to using a paint cup for most applications, it required just a little more effort to clean between colors. I had watched demonstrations and even played with the airbrushes that had a small reservoir built into the top of the brush that would only hold a small amount of fluid.
When I received this airbrush from Iwata, I merely screwed on one of their air line quick disconnect adaptors and we were ready for action. I started playing with Vallejo Model Air acrylics straight from the squeeze bottles. A few drops into the airbrush and I tackled the detail I wanted to paint. Need more paint? Add a few more drops. Time to change colors? Drop in some Windex (ammonia-based window cleaner) and shoot - the airbrush was perfectly clean and ready. We're talking mere seconds between colors!
So what good is something like this? I was painting the different colors onto pioneering tools for a tank with no overspray and perfect control. I was then working the different color patterns for a German infantry figure without the paint thickness build-up of hand-painted patterns. Plus, the thinner the coat, the faster it dries! When it came time to paint the molded-on seatbelt harnesses on my 1/32 resin Martin-Baker ejection seat, this was absolutely a dream. Needless to say, this airbrush is absolutely brilliant for touch-up work without having to worry about masking the surrounding area.

Iwata HP-AH Features
Not only does Vallejo Model-Air go through the airbrush straight from the bottle with no problems, I also shot thinned Tamiya and Gunze acrylics, Alclad II Lacquers (no thinning), and Model Master enamels (definitely thinned and a little more time consuming to clean between colors).
As you can see in the images to the right, the top of the airbrush has the double action trigger and the paint reservoir. What also makes this airbrush different is the new MAC (Micro Air Controller) valve under the nose of the airbrush that regulates air pressure at the nozzle. This allows you to dial down the air pressure to control your spray pattern without messing with either the regulator or finding the right finger position on the trigger. Set this valve, press and shoot away.
As with most other high-end airbrushes, this one offers external access to the needle retainer nut should you need to 'tweak' the needle free for any reason or reseat the needle. A knob on the rear of the airbrush allows you to limit the trigger travel so you won't accidentally move the trigger to full-open at a delicate point in the paint job.
While many folks can do an excellent job of airbrushing with a general-purpose tool, specialty tools like this one will definitely spoil you when you realize how much you can do with so little effort. While I previously couldn't understand why anyone would want such a small paint cup on an airbrush, I am now a believer. Then again, I still have my other Iwata airbrushes for the larger paint work too.
Don't let the Manufacturer's Suggested Retail Price scare you off! A quick search online shows that this airbrush has a street price of around $150 USD, which is excellent for this level of quality. In the meantime, you can read more about these and the other cool products from Iwata by visiting their website at http://www.iwata-airbrush.com/
My sincere thanks to Iwata Media for this review sample!