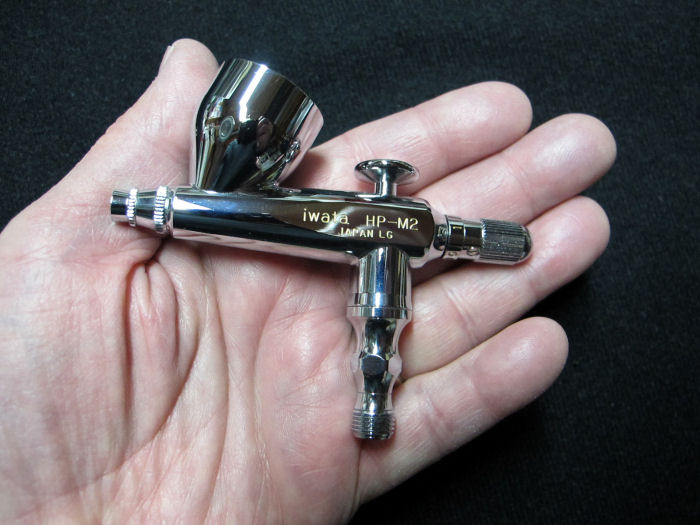 Iwata Revolution HP-M2 Airbrush First Look
| | | | |
| --- | --- | --- | --- |
| Date of First Look | January 2013 | Manufacturer | Iwata |
| Subject | Revolution HP-M2 | Pros | Small size, adjustable pattern, easy to use |
| Cons | Nothing noted | MSRP (USD) | $169.95 |
First Look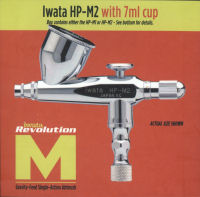 Iwata Revolution HP-M2
Iwata recently released two single-action airbrushes in their highly successful double-action Revolution line.  The new "M series" includes the HP-M1 with a .3mm needle/nozzle and 1.5 ml cup.  The HP-M2, the subject of this review, comes with a .4mm needle/nozzle and a larger 7 ml cup.  It comes packaged securely in a tight fitting 4x4x4 inch cube box with a lift off top.  Included in the box along with the brush is a lid for the gravity-feed cup, a small wrench and a four page Quick Start Guide.
The Iwata M is a single-action, gravity fed, internal mix brush with externally adjustable settings from 0 to 4 on the tail piece to control the amount of paint released when the air button is pressed.  At first blush, the M's bobtailed appearance is unconventional, missing the traditional long tailpiece.  I was at first concerned about how it would feel and fit in my hand without the extended tailpiece, but after a little practice, I found it fit comfortably and I had no problems controlling the air or directing the flow.  I added the Iwata Pistol Grip Filter accessory, part # FA450, and that made the brush even more stable in my hand.  Now, in the interest of full disclosure, I have small hands.  Those with larger mitts may have more of an adjustment.
I started airbrushing more than 40 years ago and for the majority of that time used a single action brush.  It was simple, reliable and easy to use.  But it lacked the control of both the airflow and paint flow that a double action brush could provide.  The desire to do complex camouflage schemes freehand drove me to a double action brush where I could control both the air and paint flow with one button.  I've come to use the double action Iwata Eclipse and Trigger Revolution for most of my modeling needs and they both provide excellent control.  But sometimes I long for the old single action "thin the paint and push the button" approach.
The new Iwata "M Series" provides a happy compromise between the double action and single action brushes.  Air flow when using the M is controlled with the conventionally placed top trigger button which controls Iwata's proportional air valve. Push down a little, you get a little air; push more, more air. It's possible to control your working pressure right there at the trigger!  The paint flow is adjusted with the tail mounted fluid adjustment knob providing continuous adjustments on a calibrated scale from "0 to 4."  With a little trial and error on a piece of paper towel, I found I could consistently come up with a predictable paint coverage pattern using both water soluble paints and properly thinned Model Master enamels.  I can use it for both pre and post shading of panel lines and camo patterns as well as larger area coverage.
The M doesn't have the "on the fly" adjustability of a double action brush, but it is a super little single action brush well suited to beginners and experienced modelers alike.  I'm sure once my 14 yr old grandson gets his hands on it, I'll have a hard time getting it back.