Iwata Quick Disconnects First Look
| | | | |
| --- | --- | --- | --- |
| Date of First Look | November 2005 | Manufacturer | Iwata |
| Subject | Quick Disconnects | Pros | Allows for quick swaps of tools on pressurized air hose |
| Cons | | MSRP (USD) | $16.00 |
First Look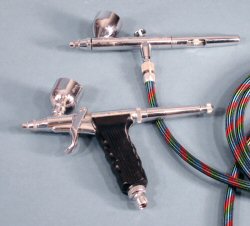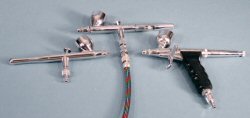 Iwata Quick Disconnects
If you've worked in or been around an auto repair shop, you've seen the variety of power tools in use. Most of these tools all have one thing in common - they are air driven. Could you imagine having to unscrew an air line to a tool to make a tool swap? You'd have to depressurize your line without affecting the air pressure to the rest of the shop, disconnect one tool, connect to the next, repressurize the air line and press on. Some time ago, someone invented quick disconnects to allow an air line to be moved from tool to tool by merely pulling down on a metal collar and releasing the current tool and snapping onto the next, all without touching your compressor or air regulator or even altering the air pressure.
Airbrush quick disconnects are here! Now this is a very cool enhancement to your airbrushing system! Iwata has machined a set of quick disconnects to connect your airbrush to your Iwata air hose. Don't have an Iwata airbrush? Not to worry - read on.
I've preferred the Iwata air hose over the other brands because it is better made. For years I used both Badger and Pasche airbrushes, so I'd acquired adaptors to allow them to screw onto the Iwata air hose. When I finally acquired my first Iwata Eclipse airbrush, there was no adaptor needed for the airhose. To change airbrushes, I closed down the air regulator, bled off the remaining air pressure, removed one airbrush, attached the next, re-pressurized the line, and pressed on. These days I still use my Pasche single-action airbrush to cover larger areas and use my double-action Iwata and Tamiya airbrushes depending on the work to be done.
A year or so ago at the Hobby Visions trade show, Iwata showed off an interesting new product - airbrush quick-disconnect adaptors. It has taken a little while for these to become available and even so, there aren't that many retailers carrying this interesting new product.
What this system uses is a screw-on fitting that mounts on the bottom of your airbrush (the fitting on the left side of the middle photo) and snap-on connector adaptor that screws onto the end of your Iwata air line (the fitting on the right). These adaptors fit nicely onto both Iwata and Tamiya (made by Iwata) airbrushes. There are also sets available with fittings and adaptors that will fit onto Badger and Pasche airbrushes as well. The Badger uses a really small fitting.
After installing these adaptors (bottom photo), you can see that the fitting adds 1.25 inches in length to the hose coupling, and the additional mass at the bottom of the airbrush actually improves the balance of the tool in my hand. Switching between my Pasche, Tamiya and Iwata airbrushes is literally a snap!
My sincere thanks to Iwata Media for this review sample!