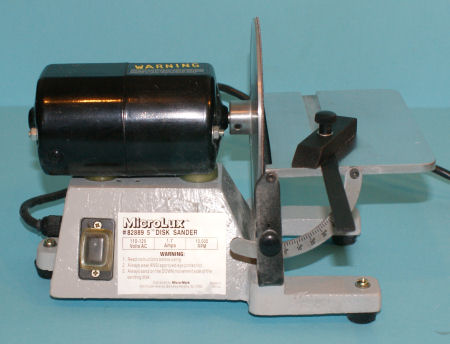 MicroLux 5" Disk Sander First-Look
| | | | |
| --- | --- | --- | --- |
| Date of First Look | January 2011 | Manufacturer | MicroLux |
| Subject | 5" Disk Sander | Pros | Great tool for cleaning up resin parts |
| Cons | Nothing noted | MSRP (USD) | $99.95 |
First-Look
While working on the MiG-23 build, I ran into a problem with an aftermarket resin product that was very difficult to cut or sand away its casting blocks. While some resins cure harder than others, this particular incident underscored how little I enjoyed working with resin parts. Until now, I've used my trusty Dremel tools to remove resin casting blocks and clean up parts, especially my Dremel Stylus with a cutting/grinding disk in place. Even with the Dremel, the task of cleaning up resin parts was painful.
A sale catalog came in from Micro-Mark, a tool and hobby gadget retailer that always has some interesting stuff for the hobbyist. As I pondered the resin problem, I scanned through the catalog seeking ideas. I came across a tool that would not only help with cleaning up resin parts, it would also be very useful for other projects as well - the MicroLux 5" Disk Sander. I put one on order and a few days later, the box arrived.
The unit is powered by a 1/4 horsepower electric motor that turns at 10,000 rpm. The motor is mounted to a cast metal base which provides a very solid and stable working platform. The motor turns a five inch plate that accepts self-adhesive sanding disks that are available in several grits.
An aluminum table 4" x 6" is mounted next to the disk and that table can be adjusted between horizontal and 40 degrees from vertical. The table is slotted to accept a steel miter gauge. In all, it is quite flexible for smaller jobs and takes up very little room as well.
About the same time this unit arrived, I also received the resin MiG-23ML cockpit set from Aires and decided to see what this could do with Aires resin. For those of you who've worked with Aires parts, they use a softer resin that is easier to manipulate but they also leave fair-sized casting blocks or pour excess on some of their larger parts. The Dremel Stylus made short work of their smaller parts, but what about cleaning the bottom of the cockpit tub? That job would usually be a painful and time-consuming mess. Not anymore.
I put on my eye protection and 3M dust mask and fired up the disk sander. It quietly spun up to 10K rpm and waited for the first part. Within a few seconds, the resin excess on the bottom of the tub was gone and that was quite a large area to clear up too! Within that same few seconds I was also covered in resin dust, but I would have been covered regardless of the tool used to sand/grind/cut away casting blocks and resin excess.
As the experienced craftsmen will tell you, use the right tool for the job. At last, this MicroLux Disk Sander is just the tool I've needed to make quick work of many of those resin projects that I've been putting off.