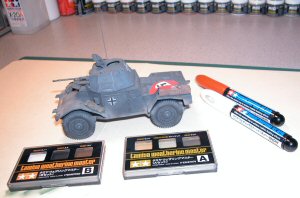 Tamiya Weathering Products First-Look
By Dave Manter
| | | | |
| --- | --- | --- | --- |
| Date of First Look | December 2005 | Manufacturer | Tamiya |
| Subject | Weathering Products | Primary Media | Acrylic |
| Pros | More robust application | Cons | |
| Skill Level | Basic | MSRP (USD) | $4.99-$9.99 |
First-Look
Recently Tamiya has released 2 new weathering items to compliment their extensive model finishing material line. The first items to be released are 2 sets of 3 pigments each. They are Tamiya Weathering Master Set A and B. Set A contains Sand, Light Sand, and Mud while set B contains Snow, Soot and Rust. These pigments are moist and at first glance will remind you of a ladies makeup compact. Each set comes with an applicator brush and sponge. They are very easy to apply and can be removed with water.
The second items to be released from Tamiya are their Weathering Sticks. There are two, Snow and Mud. These are also moist pigments but are made to be applied a lot heavier than the Master sets. They are in the form of a pen applicator that you turn to expose the weathering material. They are also water based and can be removed with ease after application.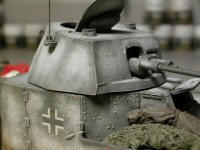 As I wanted to give these a try I grabbed an old model off the shelf and went to it. The first step for me was to apply a winter white wash. For this I used the Master Set B snow and applied it with the included brush starting in the center of each panel and working my way out to the edges. I wanted a very rough finish of an early Spring thaw when most of the white wash would be worn away. As I said before this stuff is applied moist but it dries very fast, about 5 minutes, and is very adhesive. I do not believe that the finish will be near as delicate as some of the other pigment materials.
After the Snow was applied I went over the entire vehicle with a soft brush to soften the edges of the pigments. I then applied some Mud from set A along the lower edges of the vehicle and on the tires and wheels. A little Rust was applied to the muffler and then I applied some heavier Mud along the bottom of the vehicle with the Mud Weathering Stick. This stuff builds up quick so be careful! Happy with the results I cleaned the brushes out in water, which I found removed the pigments very fast.
Overall, these items are a great investment if you want a fast, easy weathering system. The Master Sets are priced at $9.99 and the Weathering Sticks are $4.99, so are quite reasonable for what you get.