Waldron Model Products Precision Punch and Die Set First-Look
| | | | |
| --- | --- | --- | --- |
| Date of First Look | April 2005 | Manufacturer | Waldron Model Products |
| Subject | Precision Punch and Die Set | Pros | Must-have tool for scratchbuilding details |
| Cons | | MSRP (USD) | $54.95 |
First-Look
When you need one of these, they are worth their weight in gold. But when you are looking to buy one, they feel if Waldron thinks they are worth their weight in gold. Literally! They are not cheap, punching in at around 50 dollars. What you get is a small jewel case, a template with a series of numbers and different size holes that correspond with 6 different diameter pins for punching the hole in plastic with.
Your hole diameters are .160, .120, .089, .081, .059 and finally .039. More than adequate if you model in 1/72 and 1/48.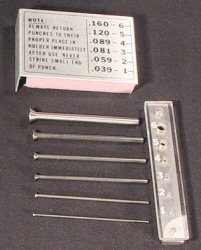 The set is very easy to use. You just sandwich the clear plastic rectangle piece over the metal base piece and use the appropriate size punch. A jewelers hammer or small taping hammer is best to use to knock the pin through the base. The smaller diameter pins are a bit flimsy because of their length so you must take your time and strike the pin directly on top to keep from bending it. Once it is bent, there is not much hope for it. You should not have any problems if you keep your plastic card stock below .015 thicknesses.
It is recommended you use alcohol or soap and water to clean the set and always return the pieces to their foam core holder.
Waldron Model Products makes a larger version of this set if you work in 1/32, 1/24 or any other scale you would need a larger bore for.
Is it worth it. Yes! It has become a stable part of my modeling tools. The problem is getting over the sticker shock.