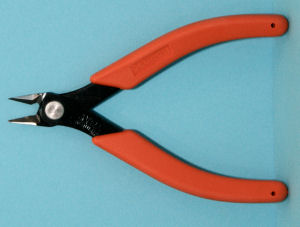 Professional Sprue Cutter First Look
| | | | |
| --- | --- | --- | --- |
| Date of First Look | December 2008 | Manufacturer | Xuron |
| Subject | Professional Sprue Cutter | Part Number | 2175ET |
| Pros | Solid upgrade to their tried and true sprue cutter | Cons | Nothing noted |
| MSRP (USD) | $23.95 | | |
First Look
If you've been modeling a while (and I have), you might remember some of the various techniques used to remove a styrene part from its sprue tree. I tended to use an X-Acto knife for the job, but I could never get a clean, consistent cut and there was usually some parts that would break or scar in the process of being removed.
One day, a new tool came around from a previously unknown company (to the hobby world) that had developed precision sprue cutters. While other companies had attempted sprue cutters that had varying degrees of success, none could reach into the really confined spaces on a sprue tree where the small parts lived. The cutters on the Xuron tool were virtually flat, allowing access into the most confined places on a sprue tree.
Another attribute that marked a truly good sprue cutter from recycled wire cutters, nail clippers, and the like, is the ability to make a cut so close to the surface that there was virtually nothing left of the sprue attachment. My first Xuron distinguished itself from the other tools by being able to make the cut right at the surface of the part being removed, all without the danger of gouging part of that part in the process.
I was pleasantly surprised to receive the latest release from Xuron - this Professional Sprue Cutter. This tool is every bit as nice as my other Xurons, but I can see how time has worn into the cutting edges of my older tools now that I've put this new tool through its paces.
What is so different about the Xuron sprue cutters? The less successful cutters used a compression cutting technique where the edges of each blade would meet together to make the cut. Intuitively, this sounds like the best approach, but the cut would not be flush. Xuron uses a shear cutting action where the blades would slightly overlap one another, like scissors, and that would obtain a flush cut.
Regardless of how the tool works, what's important is that the tool does work and it is made of the highest quality materials to render a reliable tool that will last for years (mine sure have!). One last attribute of note - the Xuron tool was less expensive that the previous attempts at sprue cutting tools! Even today, street prices of these Xuron cutters range between $12-18 USD. At least one of my Xurons are over 10 years old!
If you pay a visit to the Xuron website, you'll find a wide range of tools for a large number of applications. I'm happy that the hobby industry is one of those target audiences! These tools are available from your local hobby retailer or online hobby store.
My sincere thanks to Xuron for this review sample!