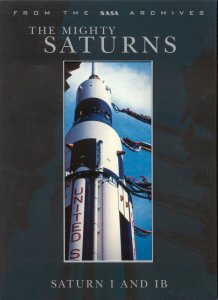 The Mighty Saturns - Saturn I and IB DVD Set First Look
| | | | |
| --- | --- | --- | --- |
| Date of Review | August 2005 | Title | The Mighty Saturns - Saturn I and IB |
| Publisher | 20th Century Fox | Published | 2003 |
| Format | DVD | MSRP (USD) | $29.91 |
First Look
After President John F. Kennedy made his famous speech proclaiming the US goal to reach the moon first, his next stop was to see Doctor Werner von Braun. On the heels of the Bay of Pigs and the loss of Astronaut Gus Grissom's capsule at sea, the president didn't want any more embarrassments.
Dr. von Braun's team had been working on improved launch vehicles for the US Army before moving over to NASA to pursue his lifelong goal, to build rockets for the exploration of space. This DVD set walks through the engineering and development of this incredible machine. One of more incredible film sequences was taken inside one of the massive fuel tanks - watching the propellant level drop that fast really puts into perspective the fuel consumption of the Saturn engines.
This DVD set is an excellent documentary outlining the history and development of this incredible machine - the Saturn. Throughout its flight test and manned flight history in the Saturn I, IB, and V series, this powerful lifter has never experienced a catastrophic failure, probably the only man-rated launcher in the world to have such a record.
This set makes use of the advanced features of your DVD player and stereo. The audio of the launch is the best I've heard anywhere on DVD. This alone is worth having this DVD set around as you'll be able to almost feel the thrust of those engines immediately after lift-off.
This three-disc set also makes use of the multi-angle feature of your player. You can flip between cameras on the launch pad to view their perspective during each of the launches.
Of all of the DVD sets that have been released in this series, this one is my favorite. I confess that this was my last choice initially, but the editing, production and audio quality is the best of the lot. The excellent look into the development, engineering, and flawless flight record of the Saturn I and IB makes this DVD set my top choice (not to mention the audio quality and multi-angle views!).
This series has been available now for a few years, but it recently caught my attention when I saw one of the other titles in this series on sale at Sam's Club.
If you're looking for a better alternative to commercial-laden one-hour documentaries on television, this set is the next best thing to being there as you'll witness the long silences as well as the flurry of activities, just as the astronauts experienced them so many years ago.