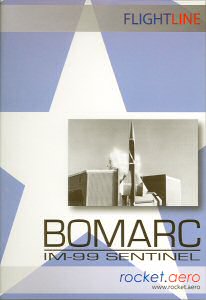 Bomarc IM-99 Sentinal DVD Review First Look
| | | | |
| --- | --- | --- | --- |
| Date of Review | May 2007 | Title | Bomarc IM-99 |
| Publisher | rocket.aero | Published | 2007 |
| Format | DVD | MSRP (USD) | $19.95 |
First Look
In the early days of the Cold War, the newly established USAF was busy developing systems to defend the United States from a bomber attack from the Soviet Union. One of the key technologies was the IBM SAGE system which was a massive computer that linked ground radars to provide automated all-weather guidance to Air Defense Command interceptors like the F-101 Voodoo, F-102 Delta Dagger, and F-106 Delta Dart.
At the time, the USAF and Canada jointly developed a new supersonic unmanned interceptor, the F-99. This was a rocket boosted, ramjet sustained aircraft that could intercept bombers over 400 miles away and at altitudes up to 100,000 feet. This was technically a surface to air missile and would be the only such development by the USAF as the US Army was (and still is) responsible for surface-to-air defense missiles.
The Bomarc was deployed around the frontiers to supplement the manned interceptor coverage. These aircraft were guided to within 10 miles of their targets by the SAGE system, then its onboard radar would complete the intercept. Bomarc could be armed with conventional or nuclear warheads.
This latest release from rocket.aero is a very nice digitization of archived 16mm films that contain some really excellent footage. I especially liked the Bomarc intercept footage from the perspective of a QB-17 target. You can also see some excellent footage of the North American X-10 taken during joint testing.
I am very happy to see someone compiling the shelves full of archive videos from this test program as well as other programs of note. These are very interesting historical videos with details also of good use to modelers! You can order this video directly from rocket.aero by visiting their website at www.rocket.aero
My sincere thanks to rocket.aero for this review sample!