A3J/RA-5C Vigilante First Look
| | | | |
| --- | --- | --- | --- |
| Date of Review | October 2005 | Title | A3J/RA-5C Vigilante |
| Publisher | rocket.aero | Published | 2005 |
| Format | DVD | MSRP (USD) | $19.95 |
First Look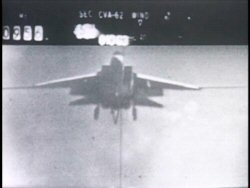 The North American RA-5C Vigilante looks as modern as anything on the flightdeck today. From certain angles, the aircraft has similar lines as the Grumman F-14 Tomcat, though this aircraft is considerably larger and originally designed as a carrier-based nuclear bomber.
While the bombing mission didn't work out as planned, the Vigilante's huge airframe made for an ideal high-speed reconnaissance platform and the RA-5C was born.
rocket.aero has uncovered some good material on this aircraft. The DVD contains several sound-less movies. One is an interesting orientation film of an early A3J at Patuxent River being used to orient the pilot on switchology and what sort of responses you'd get on the gauges as well as from the aircraft. A second A3J film shows carrier operations of the type aboard USS Enterprise.
The coverage continues with the RA-5C in operations in the Tonkin Gulf, as well as carrier operations of the aircraft. One film covers the Landing Signal Officer (LSO) and how they regulate approaching traffic to the flight deck. The photo above shows a Vigilante on short final almost perfectly lined up on the glideslope and just right of the centerline. This footage was taken aboard USS Independence.
The title has a selection of still photos on the DVD that are presented in a slide-show (automated advance) format. I didn't spend much time trying to stop the auto-advance function but is a useful feature for folks to stop and examine a given photo for details.
This is another welcome addition to the video library as this is an aircraft that you don't see that much video or even printed material. This DVD provides a good look at the aircraft and many details, which will come in handy with the Trumpeter RA-5C Vigilante kits.
This video is recommended to all aviation modelers and historians alike! You can order this video directly from rocket.aero by visiting their website at www.rocket.aero
My sincere thanks to rocket.aero for this review sample!