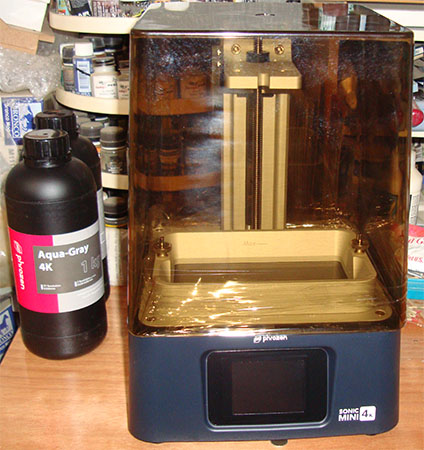 3D Printing for Scale Modeling - 1
We've come to a time where scale modelers can do more 'magic' on their projects than any time before. We have a wide variety of aftermarket resources to take a given model to the next level and beyond. The problem is that by using the commercially available aftermarket products, you may end up building something that others might build as well. So what's the solution? 3D printing.
Backstory – a friend of mine used to build models of an air defense gun system several decades ago, and he'd make masters of the key components and cast them in resin as many others did (and still do). The difference was that there was no good way to cast the structural frames, so he had access to some 3D printers (which were new at the time) that made solid frames with minimal time and effort. Unfortunately, 3D printers at that time were more expensive than houses, so they were limited to industrial applications. Fast forward a decade or two and companies like Makerbot came on the scene with hobbyist-level 3D printers.
I jumped into the 3D printing world with a wood-framed Makerbot Replicator 1 after hearing how the company was creating end-to-end solutions to support their 3D printing ecosystem. Their concept was great, but the execution was lacking. At the time, their extruders (melts the plastic rod and places it onto the print table) were not reliable and mine failed a short time after purchase. They did create a vast library of items to 3D print in their Thingverse, which is still operational today, but they never released a CAD program which could help a creator make their own designs to print. My Makerbot still sits in my office to remind me about jumping into new technologies too soon.
Since that time, I've watched those with the talent and resources create mold masters using 3D printing and how their masters have improved in resolution over the years. More recently however, a new generation of cottage industries have emerged selling their 3D prints directly off their printers instead of casting them. Look at the details produced by companies like Anyz and Metallic Details. The technology has advanced to the point where resin-based 3D printing is now viable and inexpensive.
In addition to resin 3D printing, the extruder-based printers have also improved resolution while coming down in costs, though the resolution has yet to come close to resin printers. Nevertheless, there are a variety of applications where printing using the extruder technology is faster and more effective. In an ideal setting, you'd want to use both technologies.
In the last year or so, yet another form of 3D printing has arrived on the scene, and this involves printing colors onto decal material to replicate cockpit or cab interiors while creating the effects in three dimensions. Some folks have used a simpler process to create 3D rivet details for scale modeling like those from Archer Fine Transfers, but nothing compares to the custom cockpit sets produced by Quinta Studio. In addition to the printing processes, the replication of the 3D details unique to each cockpit in addition to the colors and even glossy effects for instrument faces is impressive, then transforming those details into decals that are custom fit to specific kits from specific manufacturers. Now that is custom printing, but I digress…
I recently read in Eduard's November 2021 newsletter that there may be problems with casting their resin products due to upcoming European Union regulations (like those we've faced here (in the USA) with EPA regulations over the last decade). They too are looking at the concept of resin 3D printing as that technology doesn't have the waste-products that are created with the older casting processes.
Several other factors have come to light that are noteworthy. Anyz started selling their 3D print files for some of their products so that you can print your own when needed, plus they've added some interesting detail designs that are available (at present) for print at home as well. That F-14 HUD is interesting, for example. You can purchase other print design files online from a variety of companies and print your own copies rather than wait for a given product to arrive in the mail.
Which brings me back to my own scale modeling. While the idea of printing aftermarket products on my own printer is novel, it doesn't satisfy my basic requirement: I want to build subjects that I want. In order to do that, I need to develop CAD designs to print for my own custom parts. What if I want to convert the Kinetic F-104A into an NF-104? There used to be such a conversion many years ago that was case out of the yellow/tan resin, the parts lack details. CAD up a new nose with pitch-yaw thrusters up front and the new rocket fairing for the tail, and you can get there. Zvezda has that beautiful C-130H kit, but I want to build the EC-130H that I served as aircrew when we first brought in into service. I could go on with my project list, but you get the idea and being able to design and print my own parts suddenly makes that printer more viable to me.
As I mentioned earlier, the main obstacle to designing my own parts is a reliable software tool and the most widely used design tool in the hobby industry is Solidworks. Actually, it is widely used in a variety of industries and has been around for many years, but when I first looked at it for my Makerbot, and even more so today, the tools are rather pricey. What's changed? They've released a far less expensive option in 3DExperience Solidworks for Makers that is web-based. This is far more reasonably priced for the hobbyist that wants to get the most out of their 3D printers.
This leaves one last obstacle for me – training. I have never used Solidworks, but there used to be an online training library you could subscribe to called Lynda.com. I made use of this repository for over two decades to learn new software tools or refresh my skills on tools that have evolved since I last used them. LinkedIn bought Lynda.com to create LinkedIn Learning and they do have Solidworks courses, so now we're ready to go.
While I've read and viewed a variety of 3D printer reviews, I found some of them to be as useful as asking drivers which is better: Mustang or Camaro? They are both good, they both have their pros and cons, but nothing that distinguishes one from another. So I asked around and some were kind enough to share what they use to replicate their high-resolution resin prints/products. The standout for me was the Phrozen Sonic Mini 4K which is a small printer that runs roughly $350. For me, this will easily print the parts I want for the next several months and let me learn how to use the system before I get the larger system that will print in 8K resolution. Some of my conversions/corrections are larger, but I need to walk before I can run.
So here we are, the printer and bottles of resin have arrived, and in a few days, I'll have the last bits needed to get started. In the coming months, I'll share the learning process, both with the software tools as well as the printing experiences. While I'm content to buy those products that are already available from companies like Quinta Studio, Anyz, and Metallic Details, I now have the potential to get much-needed parts support for my projects sitting right next to my workbench. This is going to be fun!
You can go to part two of this series here.