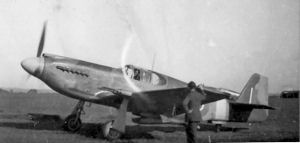 RAF Allison-Powered Mustangs
by Colin Ford
Like many model manufacturers before them, Hobbycraft has been caught out with less than thorough research and possibly some compromises in mouldings in order to keep costs reasonable. In reviewing the photographs of the moulded parts and material provided in relation to the subject RAF Mustang Mk.1A to be kitted by Hobbycraft I can provide the following comments and corrections:
Main inner undercarriage gear doors up and locked on the Allison Mustang in normal circumstances. The doors could be unlocked to hang down for servicing purposes, but because of the differences in the undercarriage of the Allison powered Mustangs compared to the later Merlin engined variants, the doors did not bleed down but were held in place by a door lock mechanism. A number of the restored Allison Mustang warbirds currently flying do not have original undercarriage components and thus are more typical of Merlin engined variants.
RAF Mustangs did not have the underwing recognition lights fitted. This was a USAAF item. Just a plain panel where the underwing lights are on RAF versions.
Recoil springs on the Hispano cannon on the RAF Mustang Mk.1A is inside the wing leading edge fairing. All that presents forward of the fairing is a locking nut, smoothly tapering cannon barrel (taper is so fine you would probably not depict it in 1/32 or smaller scale) with the barrel locking nut on the end - usually with a plastic or doped fabric cover in a yellow colour on No.268 Sqdn RAF Mustangs.
RAF Allison Mustangs did not have the red flap 'do not walk' markings applied.
They often did have two dull yellow 'aiming marks' on the trailing edge of the flap to help the pilot aim the oblique camera at its ground target.
To further detail this model when released there are a number of small detail items that could be added, such as the IFF dipole under the port (left) wing, extend the scribing on the underfuselage air intake to depict the full extent of the movable front air intake arrangement, replace the kit antenna with a slimmer and taller replacement (flattened pole dipole antenna) and add a small circular rear vision mirror above the front canopy bow. I would be interested to see if some aftermarket manufacturer will offer us a fully detailed under fuselage air intake and exhaust for the Mustang Mk.1A which when fully open was a very distinctive look.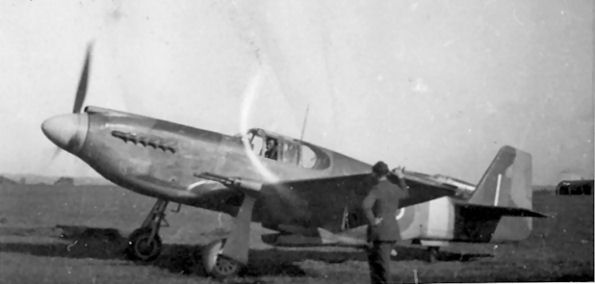 The marking choice of FD472 'M' is an oft repeated one, more likely because this aircraft was the subject of a photographic session by Flight magazine in August 1944 and as such a number of good reference photos were available of it. It has been used by Accurate Miniatures as one of their subjects in 1/48th scale and by Aeromaster in their 1/48th scale decals for Allison Mustangs. The source information many have used for this is the RAF Camouflage & Markings book by Goulding & James published by Ducimus. This incorrectly identified FD472 as serving with No.168 Squadron RAF as portrayed with invasion markings in August 1944. This unfortunately is incorrect. I suspect Goulding & James when preparing their work in the 1970's only had access to the original wartime material which did not include any identification of which Squadron was using the aircraft, other than a Tactical Reconnaissance Squadron somewhere in France. FD472 had not served with No.168 Squadron RAF since January 1944 when it was transferred to No.268 Squadron when they moved to southern England after being based at RAF Turnhouse for about three months on rest from operations. In keeping with the other aircraft of their respective reconnaissance wings, No.168 Squadron equipped fully with Mustang Mk.1 aircraft and No.268 Squadron equipped fully with Mustang Mk.1A aircraft. So if it is a Mustang Mk.1A and it is carrying invasion markings it would be with either No.II(AC) Squadron RAF Shiny Two or No.268 Squadron RAF. By the time D-Day rolled around No.II(AC) Squadron RAF was using a mix of Mustang Mk.1A and Mustang Mk.II aircraft and actually borrowed back a number of Mustang Mk.1A aircraft from No.268 Squadron for use on D-Day and D+1.
There are actually quite a number of other interesting RAF Mustang Mk.1A aircraft which could be selected as a modelling subject, including some in early 1945 camouflage and marking schemes as shown in Volume 3 of 2TAF by Shores and Thomas - black spinner, no sky id band near the tail and type C1 roundels used at all major national marking points!
However I look forward to eventually getting examples of the Hobbycraft Allison engined Mustangs in 1/32nd scale in my actual hands to build and enjoy. The issues I have highlighted above are easily correctable and within the realms of the average modeller to fix or live with. I have plenty of subjects to choose from to build.