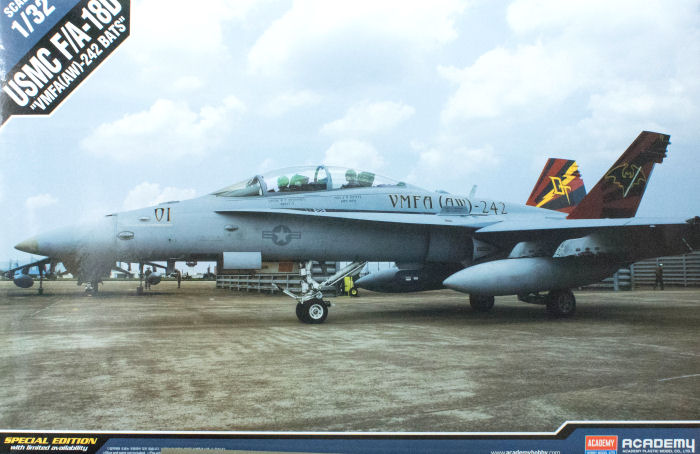 Academy 1/32 F/A-18D Hornet USMC Kit First Look
| | | | |
| --- | --- | --- | --- |
| Date of Review | December 2015 | Manufacturer | Academy |
| Subject | F/A-18D Hornet USMC | Scale | 1/32 |
| Kit Number | 12118 | Primary Media | Styrene |
| Pros | Lots of options, easy construction, great detailing | Cons | See text |
| Skill Level | Basic | MSRP (USD) | $224.98 |
First Look
The McDonnell Douglas F/A-18 Hornet was subjected to a turbulent early life with critics citing the Hornet's limited range and payload as well as its costly price tag. Nevertheless, the visionaries that stood by the Hornet would ultimately be vindicated, as this aircraft would become the launch platform for new generations of precision-guided weapons, eliminating the need for carriage of larger numbers of bombs to attack the same target. In addition, the F/A-18 would also become the first Navy attack aircraft that could defend itself in aerial combat without the need to jettison its bombs to survive the encounter. The first true naval multi-role fighter had been developed.
The F/A-18, like its Air Force F-15 cousin, went through the period where the two-person crew concept was dead and one pilot could handle all of the tasks in air-to-air and air-to-ground combat. Two seat versions were only for training (F-15B, F-15D, F/A-18B). It didn't take commanders long to remember once again why two sets of eyes and hands are better than one in a dynamic environment and the F/A-18D Night Attack Hornet along with the F-15E Strike Eagle revived two place aircraft, just like the F-4, Tornado, Mirage 2000D, Su-30M, and similar mission aircraft around the world.
The F/A-18D employs the full range of air-to-air and air-to-ground weaponry, from Sidewinder, Sparrow and Slammer (AMRAAM) to HARM, GPS-guided munitions and laser-guided bombs. If you can hang it under a fighter, the Hornet can deliver. The US Navy and US Marines have used the Night Hornet to great effect not only in Operation Enduring Freedom and Operation Iraqi Freedom, but in operations around the world.
It is hard to believe that it has been ten years since Academy released their 1/32 F/A-18D Hornet kit and have recently reissued the kit but are offering new decals with this limited edition release. As before, the kit is moded in light gray styrene and presented on 17 parts trees plus one tree of clear parts, separately packaged windscreen and canopy, one set of metal landing gear cores, and one set of rubber (vinyl) tires. All of the panel lines and appropriate details are beautifully scribed into the model.
Among the features and options in this kit:
Two nice NACES ejection seats with crew restraint details molded in place
Nicely detailed front and rear cockpits
Positionable canopy
Positionable boarding ladder
Clear MFD faces with optional decal choices for displays
Detailed landing gear w/metal cores for strength
Choice of styrene or rubber tires
Outer wings can be posed extended or folded
Positionable leading edge flaps
Positionable trailing edge flaps
Positionable ailerons
Positionable stabilators
Positonable rudders
Positionable speed brake
Choice of open or closed afterburner nozzles
Optional IFF antennas for the nose
Positionable radome
Detailed radar set under radome
Optional pilot and crew figures
The figures alone would make a nice kit of their own. There are five figures provided: two seated pilots, a pilot climbing the cockpit access ladder, a standing deck hand, and a launch director squatted into the launch signal pose. Now if that is not enough, there are an interesting array of heads that accompany these figures. The pilots have heads in the following conditions:
No helmet or sunglasses
Sunglasses, no helmet
Helmet visor up, no O2 mask, and sunglasses on
Helmet visor down, O2 mask on
Helmet w/NVG goggles and O2 mask on
This kit offers a wealth of external stores options. These include:
1 x AAS-38 Laser Designator pod
1 x ASQ-173 Laser Detector/Tracker pod
2 x AIM-7F/M Sparrows (the nicest I've seen in this scale)
6 x AIM-9L/M Sidewinders (w/launch rails)
4 x AIM-120 AMRAAM
2 x Twin AIM-9/AIM-120 missile rail adaptors
2 x AGM-84D/E Harpoon/SLAM
4 x AGM-65E Maverick missiles (w/launch rails)
4 x AGM-88 HARM w/LAU-118 launch rail adaptor
8 x Mk.82 500lb bombs with your chose of normal low-drag fins or Snakeye high drag fins
2 x GBU-10 Paveway II Laser-Guided Bombs
2 x GBU-24 Paveway III Laser-Guided Bombs
2 x GBU-32 1000lb JDAM smart bombs
4 x Vertical Ejector Racks (VERs)
4 x External Fuel Tanks
Note that none of the bombs have the standard USN/USMC fire-retarding coating on them. The JDAMS also have Air Force fuses on them, but a sanding stick and a good photo will correct this.
The decals for this model are as stunning and complete as the rest of the kit. Two sheets are provided, one of which is almost as big as the box itself. On sheet one, markings are provided for three examples:
F/A-18D, BuNo 165686, VMFA(AW)-242 'Bats', DT/01, MCAS Iwakuni, 2010-2012
F/A-18D, BuNo 164955, VMFA(AW)-242 'Bats', DT/00, MCAS Iwakuni, 2012
F/A-18D, BuNo 165411, VMFA(AW)-225 'Vikings', CE/01, MCAS Miramar, 2012
The first sheet also contains a complete set of maintenance stencils for the aircraft. The second sheet contains additional stencils for the radar, sensor pods, weapons and MFD displays.
This kit remains the best F/A-18D Hornet in 1/32 scale, but it is also the only kit. In terms of detail and complexity, it far more detailed than the venerable 1/32 Hasegawa F-18 prototype and it offers superior cockpit detail and fit than Trumpeter's 1/32 Super Hornet kits. On the down side, while the kit offers full-length intake ducts down to the F404 engines, the intake diameter is choked down near the inlet before opening back up near the engines. This is presumably to allow the intake trunks to clear the wheel wells, but in more contemporary Academy kits, these would be proper diameter with the wheel wells molded integral to the trunks to achieve the proper look.
While not for the inexperienced modeler, this kit does not present any unique construction challenges and will likely become a favorite of contest tables for years to come.
My sincere thanks to MRC for this sample!
References:
Here are some good references for your Hornet project:
Uncovering The Boeing F/A-18A/B/C/D Hornet, By Danny Coremans and Nico Deboeck, DACO Publications, 2004, ISBN 90-806747-3-7
Walk Around F/A-18 Hornet, By Greg Davis & Chris Neill, Squadron/Signal Publications, 1999, ISBN 0-89747-401-5
F/A-18A/C & CF-18C Hornet, By Willy Peeters & John Brooks, Verlinden Publications, 1992, Lock On Nr.15
F/A-18 Hornet in Action, By Lou Drendal, Squadron/Signal Publications, 1993, ISBN 0-89747-300-0
F/A-18 Hornet in Detail & Scale, by Bert Kinzey (Published under Detail & Scale Publications, Squadron/Signal Publications & Kalmbach Publications - check with your book seller and/or hobby shop on this one), 1994
Hornet's Nest - MAG-31, by Randy Jolly, Concord Publications, 1997, ISBN 962-361-732-1
World Airpower Journal, Volume 26, pp 50-111