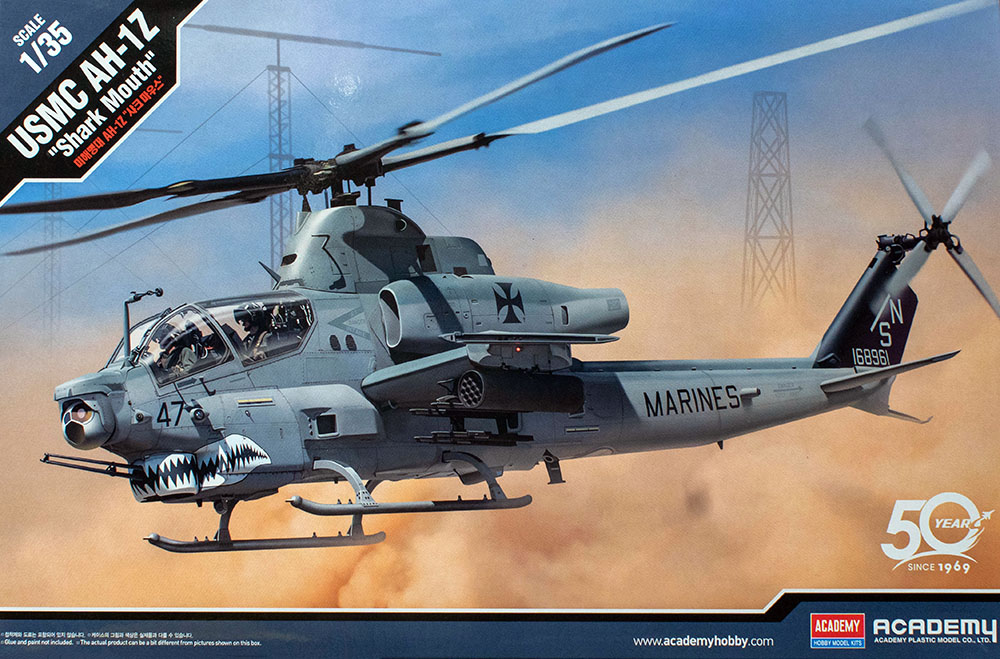 Academy 1/35 AH-1Z Viper Kit First Look
| | | | |
| --- | --- | --- | --- |
| Date of Review | August 2019 | Manufacturer | Academy |
| Subject | AH-1Z Viper | Scale | 1/35 |
| Kit Number | 12127 | Primary Media | Styrene, Photo-Etch |
| Pros | First kit of this version in this scale | Cons | Nothing noted |
| Skill Level | Intermediate | MSRP (USD) | $69.00 |
First Look
The U.S. Marine Corps has been flying twin-engined AH-1 Cobra helicopters for decades and when they had the opportunity to transition to the AH-64 Apache, they opted to upgrade their fleet of AH-1W airframes instead. Bell Helicopter proposed a common upgrade program for the UH-1N and AH-1W to receive the same rotor system, engines, transmission, tail boom, tail rotor, avionics, displays, etc. The upgraded UH-1N would become the UH-1Y while the upgraded AH-1W would become the AH-1Z Viper (or Zulu Cobra).
While the AH-64 Apache and the AH-1Z Viper are similar in size, weight, engines, and armament, the Viper is about 20 knots faster, faster on the climb, and can carry the AIM-9L/M Sidewinder versus the Stinger on the Apache. On the other hand, the Apache is armed with the M230 30mm gun with 1200 rounds versus the Viper's M197 20mm gun with 750 rounds. First declared operational in 2010, the AH-1Z is still under production while Marine squadrons transition into this new capability.
You might remember that MRC/Academy produced the AH-1W in 1/35 scale and was released over time with airframe updates. It has been a while since the last release of this kit and when Academy first announced the AH-1Z, some speculated that this was going to be another update to the AH-1W tooling. If you've ever seen the AH-1W kit, one look at the parts trees to the right will prove definitively that the AH-1Z release does not share any parts with the older kit, this is 100% new tool. What's more, Academy used contemporary molding technology to produce this kit, especially looking at the one-piece tail boom using slide-molding. This kit is molded in light gray styrene and presented on five parts trees (duplicate tree not shown) plus one tree of clear parts and one fret of photo-etched parts.
Among the features and options in this kit:
Beautifully detailed front and rear cockpits
Nicely molded instrument panels and side consoles for easy painting
Crew seats do not have crew restraints - aftermarket restraints will be needed
Positionable cockpit entry doors
T700 engine compressor faces visible down intakes
Engine access panels molded separately but not intended to be positionable as there are no engines provided inside engine bays, but if you use an aftermarket engine bay detail set, this will make displaying the engines much easier
FLIR and gun turrets are movable/posable
Paint masks included for canopy/doors
Photo-etch grilles for air vents around the airframe
Among the armament options in the kit
2 x LAU-68 7-shot rocket pods
2 x LAU-61 19-shot rocket pods
8 x AGM-114 Hellfire missiles on two M272 launchers
2 x AIM-9L/M Sidewinder missiles
The kit also comes with a huge sheet of decals to render the following four subjects:
AH-1Z, 168961, HMLA-169, SN/47, MCAS Iwakuni, 2017
AH-1Z, 168961, HMLA-369, SM/47, MCAS Iwakuni, 2018
AH-1Z, 168961, HMLA-469, SE/47, Itazuke AB, 2018
AH-1Z, 168003, HMLA-303, QT/615, NAS North Island, 2011
While this kit has been on the market for a few months, the feedback has been very positive and warranted a look for ourselves. The completed model will require a little more shelf space to display given the four-bladed main rotor, but the good news is that there are already solutions available in the aftermarket. Like the full-scale aircraft being stowed on (or under) the flight deck, there is (at least) one aftermarket conversion to display the rotor blades folded. While this conversion doesn't include the blade supports to hold them while folded, there is another aftermarket set that provides that feature. When we get this model on the bench, we'll take a closer look at these aftermarket options.
This is a beautiful kit in the box, and the images I've seen online of built examples reinforce the conclusion that Academy has done an outstanding job on this one.
For a look at this kit in our quick-build review, look here.
Here is a list of paints Academy identifies for use with this kit:
AMMO
AV
GSI
HAT
LC
MIS
MRP
REV
TAM
TES
XTRA
Flat Black
0046
71.057
C033
H012
N012
A041
B041
C041
LC002
017
LP03
XF01
Black
0032
70.950
C002
H002
N002
A125
B125
C125
LC002
MMP047
005
A012
32107
36107
LP01
X01
White
0050
71.001
C001
H001
N001
A125
B125
C125
LC001
MMP001
004
A014
32104
36104
LP02
X02
X141
Red
0049
71.269
C003
H003
N003
A276
B276
C276
LC006
MMP003
002
32131
36131
LP07
X07
Gray
0203
71.312
C308
H308
A037
B037
C037
UA026
MMP073
057
A065
32143
AS26
X136
XA1136
Gray
0208
71.120
C307
H307
A035
B035
C035
UA027
MMP074
097
AS25
X135
XA1135
Silver
0195
70.790
C008
H008
N008
A003
B003
C003
LC074
MMM006
003
32190
36190
AS12
LP11
X11
X038
Steel
0191
71.065
C028
H018
N018
MMM002
030
32191
36191
LP40
X10
X502
Olive Drab
71.016
C012
H052
N052
AS06
X112
XA1112
Olive Green
0065
71.289
C303
H303
A021
B021
C021
UA059
MMP028
102
AS14
X116
XA1116
Clear Red
70.934
C047
H090
N090
MMP167
LP72
X27
Clear Blue
70.938
C050
H093
N093
MMP168
LP68
X23
My sincere thanks to MRC for this review sample!