Hobbycraft 1/32 Allison-Powered Mustang Preview Kit First Look
Date of Review
August 2007
Updated January 2008
Manufacturer
Hobbycraft
Subject
P-51, P-51A, A-36
Scale
1/32
Kit Number
TBA
Primary Media
Styrene
Pros
First injection-molded Allison-Powered Mustang kits in this scale; simple construction
Cons
Skill Level
Basic
MSRP (USD)
$39.95
First Look
Some time ago, we heard that Hobbycraft Canada was planning a release of the Allison-Powered Mustangs in 1/32 scale. This was quite interesting (to me) as the early Mustangs have not previously been produced in this scale. Hobbycraft/Canada was kind enough to send us test shots of two of their first releases. Check these out!
Hoobycraft has developed tooling to render the P-51 and P-51A Mustangs as well as the A-36 Apache. We have the wings for the P-51 and P-51A. The A-36 wings have the slotted dive brakes and these look good as well.
The kit will consist of five parts trees, plus a single tree of clears. What you're seeing here are sprue trees from two of the three kits. Note: You won't get ALL of these trees in one kit, just the wings and details for one version.
Given the pros and cons of many other contemporary kit releases, let's take a look at Hobbycraft's approach to this beautiful aircraft:
The nose is molded separately from the rest of the fuselage to accommodate the P-51 chin-mounted gun-nose variants and later P-51A nose without guns
The fuselage tree is common to both variants
Three wings are tooled, one for the machine gun armed Mustangs, one for the Mustangs armed with 20mm cannons and the third with speed brakes for the A-36 Apache
Allison-powered Mustangs turned a three-bladed propeller. This kit provides a narrow chord and a wide chord propeller option
The flight controls are all molded integral with their respective aerodynamic surfaces, so if you want to pose your flaps down, your rudder off-center, your elevators drooped, you'll have to do some careful surgery
Two sets of main gear wheels are provided, both with worn diamond tread tires, but one set is round and the other is weighted. As an interesting touch, the hubs are molded separately which will make painting the wheel much easier
Two styles of ventral radiator scoops are provided, depending on the version you're building
For the P-51A, you'll have wing pylons, and your choice of drop tanks of bombs to mount on the pylons. A pair of bazooka rocket launchers are also included
The main wheel wells are boxed in which is incorrect for the P-51, but EVERY kit produced of this aircraft has the same boxed in design
There is a camera included, so I sense the F-6A and F-6B are options
The cockpit floor is properly represented as a curved surface that is actually the upper surface of the wing
Speaking of wings, the kit does NOT feature extensive rivet detail and the wings have a minimum of panel lines, just like the real aircraft. Nice!
The clear parts provide the standard folding canopy as one piece (closed), the standard folding canopy as two parts (open), and the Malcolm hood
In addition to the rear side windows, a second rear window is provided with a hole to represent the photo-reconnaissance version(s)
It looks like we have at least the following variants coming from these parts:
P-51
P-51A
F-6A
F-6B
Mustang Mk.I
Mustang Mk.II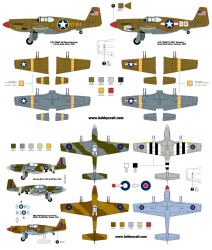 So how does this look? It looks like we have a 1/32 version of the Accurate Miniatures 1/48 Mustang, but one problem Accurate had with their kit was their landing gear - they were scale thickness which meant that they were a bit fragile. Those same struts in 1/32 are just fine.
Hobbycraft has a real winner here that will be VERY reasonably priced and an easy build out of the box, yet these will offer an AMS modeler with a great basis for creating a masterpiece. Don't take my word for it, check out our online build from one of the test shots!
Decal subject information is still not available at present, nor is the final release date. Hobbycraft had published a rather aggressive release schedule last fall and are currently reassessing their release timelines. While we don't have a tentative release date for these Mustangs, it is my understanding that these will be the next release on Hobbycraft's schedule.
I can't wait for these to hit the street!
My sincere thanks to Hobbycraft Canada for this sneak peek!
References: