Kinetic 1/48 F/A-18 Hornet Kit First Look
| | | | |
| --- | --- | --- | --- |
| Date of Review | January 2017 | Manufacturer | Kinetic |
| Subject | F/A-18 Hornet | Scale | 1/48 |
| Kit Number | 48030 | Primary Media | Styrene, Photo-Etch |
| Pros | See text | Cons | See text |
| Skill Level | Experienced | MSRP (USD) | $39.99 |
First Look
The Air Force was in full swing with its lightweight fighter program that pitted the General Dynamics YF-16 against the Northrop YF-17. The Navy was considering a purchase of the same type that won the Air Force's competition, but when the YF-16 was declared the winner, the Navy had second thoughts. The YF-16 had some inherent problems at the time, not the least of which was only one engine. The Navy decided to base their next fighter on the YF-17 Cobra. During the acquisition process for this new aircraft, somehow McDonnell Douglas was selected to convert the YF-17 into a carrier-capable lightweight fighter while Northrop became a subcontractor to support their design. The conversion process turned out to be more difficult as time progressed as the Navy added requirements to the aircraft and these requirements translated into additional weight and cost. The resulting airframe was quite different from the original YF-17 and nearly 7,000 pounds heavier at empty weight.
The resulting F/A (Fighter AND Attack)-18A Hornet was the Navy's first 'swing fighter'. It could fly deep into gomer territory, deliver weapons on target, and even conduct serious air-to-air combat without having to jettison the air-to-ground weapons as was common with older strike aircraft. The Hornet has seen action with the US Navy and Marine Corps in Operation Desert Shield/Desert Storm, Operation Iraqi Freedom, Operation Enduring Freedom, and in support of a variety of other operations. In addition to US service, the F/A-18 is also in service with the Canadian Armed Forces, Royal Australian Air Force, Swiss Air Force, Spain, Finland, Kuwait, and Malaysia. While the F/A-18A/B were supposed to be phased out as the F/A-18C/D and F/A-18E/F came online, operational tempo dictated that the original Hornets remain in service and were given needed avionics upgrades (among other things) to keep them up-to-date. These updated Hornets received the APG-73 radar in place of the original APG-65 and the distinctive 'bird slicer' APX-111 IFF antennas ahead of the windscreen.
Last year, Kinetic Models released the F/A-18C Hornet which received high praise from the modeling community. The one question that came up here and on several forums was the vertical stabilizer which is notably shorter than the Hasegawa kit. On one of those forums, Dave Roof (USMC) went out to one of his full-scale examples and found that the Kinetic and Monogram vertical stabs were closer in shape than the Hasegawa Hornets. As you'll see here, Kinetic has listened and made some additional improvements to this latest release.
Here we have Kinetic's latest release which can render your choice of F/A-18A+, F/A-18B, CF-188A, or CF-188B. As before, this kit is molded in gray styrene and presented on 13 parts trees plus lower fuselage, three trees of clear parts, and one fret of photo-etched parts. The surface details are sharp, the panel lines and rivet details are also sharp and not overdone.
Among the features and options in this kit:
Choice of single or dual cockpits
Nicely detailed cockpit(s) complete w/detailed sidewalls
Detailed NACES seats w/photo-etched pilot restraints
Positionable canopy
Photo-etched canopy bow w/mirrors
Positionable boarding ladder
Choice of noses (with or without identification spotlight)
Nice intake ducts down to F404 compressor faces
Nice afterburner chambers and nozzles
Positionable air refueling probe
Positionable outer wing panels (flight or folded)
Positionable leading edge flaps
Positionable trailing edge flaps
Positionable flaperons
Positionable stabilators
Positionable rudders
Positionable speed brake
Photo-etched chaff/flare launcher faces
Updated centerline pylon
Weapons/stores options include:
2 x AIM-9L/M Sidewinder
2 x AIM-9X Sidewinder
2 x AIM-120B AMRAAM
2 x AIM-120C AMRAAM
2 x GBU-12 Paveway II LGB
2 x GBU-38 JDAM
2 x GBU-87 CEM
1 x AAS-38 FLIR
1 x AAQ-28 Litening
1 x Sniper XR
3 x 330 gallon tanks
Marking options include:
CF-188A, 188747, 409 Sqn, CAF, 2016
CF-188A, 188794, 409 Sqn, CAF, 2016
CF-188A, 188756, 425 Sqn, CAF, 2016
CF-188A, 188788, 425 Sqn, CAF, 2016
CF-188A, 188797, 425 Sqn, CAF, 2016
CF-188B, 188916, 410 Sqn, CAF, 2016
CF-188B, 188932, 410 Sqn, CAF, 2016
CF-188B, 188937, 410 Sqn, CAF, 2016
CF-188B, 188938, 410 Sqn, CAF, 2016
CF-188B, 188917, 425 Sqn, CAF, 2016
F/A-18A, A21-35, 75 Sqn, RAAF, 2015 Australian International Airshow scheme
F/A-18A, A21-4, 77 Sqn, RAAF, 2014
F/A-18A, A21-57, 3 Sqn, RAAF, 2015, Operation ORKA
EF-18AM, C.15-25, Ala 15, Spanish AF, 2015, Anatolian Eagle
EF-18AM, C.15-50, Ala 12, Spanish AF, 2016
F/A-18A+, C.15-85, Ala 46, Spanish AF, 2016
The decal artwork was produced by Crossdelta and printed by Cartograf. Interesting that no US examples were included in this release. The instructions have color call-outs in the assembly steps but they are referenced using Mig paints. There is a table near the end of the instructions which provide color equivalents to other paint manufacturers.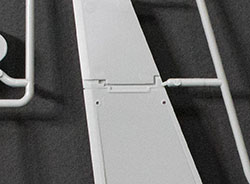 Here's a look at the cut line molded into the wings should you wish to pose your aircraft with the wings folded. The kit provides separately molded outer wing panels so all you need to do is remove the outer panel at the cut line and discard those parts.
Kinetic included the original F/A-18C/D tails in this release along with the new-tooled F/A-18A/B tails with separately molded rudders. Hopefully Kinetic will retool the F/A-18C/D tails with separate rudders as well in the future. The kit still has the F404 nozzles both closed which is fine for a running aircraft or one where the pilot cut both engines simultaneously. In those cases where the pilot shuts down one engine at a time, the nozzle of the first engine shut down opens because the other engine is providing hydraulic pressure and when it shuts down, that nozzle remains closed. This is a minor point and there are ample aftermarket nozzle sets out there should you wish to have one or more open nozzles.
Kinetic continues to release some nice kits as they improve their design and production processes. While this release focuses on updated international A/B-model Hornets, it won't be difficult to backdate the kit to the earlier F/A-18A or B model given the great references available to the modeler.
My sincere thanks to Lucky Model for this review sample!
References: