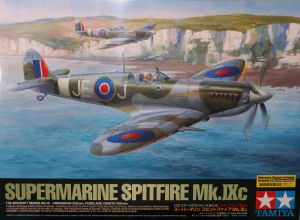 Tamiya 1/32 Spitfire Mk.IXc Kit First Look
| | | | |
| --- | --- | --- | --- |
| Date of Review | December 2009 | Manufacturer | Tamiya |
| Subject | Spitfire Mk.IXc | Scale | 1/32 |
| Kit Number | 60319 | Primary Media | Styrene, Photo-Etch |
| Pros | The best Spitfire produced in any scale | Cons | Trumpeter-styled photo-etched flight control surface hinges |
| Skill Level | Intermediate | MSRP (USD) | $153.00 |
First Look
The Supermarine Spitfire Mk.V ruled the skies over Great Britain during the early years of the Second World War. It was able to match the Luftwaffe's best fighter of the day, the Messerschmitt Bf 109E. With the appearance of the Focke Wulf Fw 190A in the skies however, it was quickly apparent that the Spit had finally been outclassed.
Recognizing that a major upgrade to the Spitfire was necessary, the RAF set out to develop the Spitfire beyond the anticipated capabilities of the Luftwaffe. Also recognizing that such a major upgrade would take time, time that the RAF could ill afford, an interim solution was needed. That interim solution would become the Spitfire Mk.IX.
By taking the existing Mk.V airframe under production, installing the new Merlin 61/63 series (which added 100-200hp and an improved supercharger) which turned a four-bladed propeller, and adding such refinements as a gyro gunsight, additional fuel tanks and (later) the E-wing, the new Spitfire was able to regain its superiority in the skies over Europe. The Mk.IX was the second-most produced version of the Spitfire, with some 5600+ examples built. The most numerous version was the Mk.V.
Tamiya has turned out numerous kits over the years that nicely capture the look and essential details of each given subject that builds into a nice model without much effort. It has been this ease of building that has set the standard in the scale model industry as 'Tamiya quality'. Every now and again, Tamiya will produce a stunning model that features incredible details and is targeted to more experienced modelers and some of the best of these were the 1/32 scale A6M Zero series. These A6M kits featured amazing detail without being so complex that the model was unbuildable. Tamiya produced several variants of the aircraft and they still remain the best kits of the Zero ever produced in any scale.
Tamiya has returned with another subject that has been in need of Tamiya's attention to detail - the Supermarine Spitfire. This kit has been available for a little while now and there have been numerous reviews published to date, and I've heard that there are some aftermarket details and corrections coming for this kit in the coming weeks.
As nice as the Zeros were out of the box, I was amazed that a variety of aftermarket sets were released for them as well. I suppose it is all relative - these kits are more detailed that many modelers are used to and are a good step toward building more complex projects since Tamiya kits are so well engineered. AMS modelers are usually not satisfied with what's in the box and always want to go several steps beyond 'straight out of the box'. That's what makes this hobby so much fun, so many choices - so little time.
The kit is molded in medium gray styrene and presented on 22 parts trees plus one tree of black styrene parts for the optional display stand, one tree of clear styrene parts, two frets of photo-etched parts, metal rods for the landing gear cores, and rubber parts for two tire options and a few other details.
Out of the box, this kit represents a very nicely detailed Spitfire Mk.IXc. The layout of the kit is modular enough to render several variants of the Spitfire without much effort. The Spitfire Mk.IXe is obviously going to be an easy step, but with the cowling segments separately molded, it would also be easy enough to render the earlier marks with a new wing, engine and prop. I wouldn't be surprised to see a few other variants coming in our future.
So what can we do with this kit? Let's take a look:
Nicely detailed cockpit that includes decal-printed instrument faces on of two types of panel layouts; photo-etched seatbelt and shoulder harness, and many other nice details
Optional pilot's figure posed for in-flight
Optional standing pilot figure
Positionable canopy hood
Positionable cockpit access door
Movable flight control surfaces - the kit uses the same design of photo-etch flight control hinges that Trumpeter used in many of their larger kits until they were thankfully banished. While they won't hurt the rudder and elevators, they could cause both ailerons to droop VERY unrealistically. Lose the hinges!
Early and late style rudders
Early and late style elevators
Horizontal stabs are molded in early style, but have ready to cut sections at the tips to reconfigure the stabs into the late style pattern
Positionable flaps (no hinges, thank you!)
Positionable radiator flaps
Optional standard or clipped (LF) wingtips
Beautiful wheel well details
Interesting main spar to reinforce the wing/fuselage structure
Optional gun cover options to support the different subjects offered in this kit
Optional bomb racks and bombs
Nicely detailed Merlin engine
Two options for engine hood
Two options for chin cowling panel (standard and Trop)
Removable cowling panels to show off the engine
Carburetor duct that slips into place when chin cowling panel removed
Positionable landing gear
Two styles of main gear door
Optional ventral fuel tank
Optional ventral fuel tank with optional display stand mount
Optional display stand
Paint masks
I was really unpleasantly surprised with those photo-etched flight control hinges. It took Trumpeter a while to learn that they were not favored by most modelers and here they are in this kit. Fortunately most folks know that you simply replace the photoetched hinges with styrene strip segments to mount the flight controls (unless you really do want to have movable surfaces...).
Decals are provided for three examples:
Spitfire Mk.IXc, EN398, JE-J, personal mount of Wing Commander J.E. 'Johnnie' Johnson, RAF Kenley, July 1943
Spitfire Mk.IXc, EN315, 145 Sqn (Poland), ZX-6, Tunisia, 1943
Spitfire Mk.IXc, TD202, GC 1/4 'Dauphine', P, French Air Force, Indochina, 1948
A complete set of maintenance stenciling is also included for the airframe including the yellow leading edge ID stripes as well as sky and white ID fuselage bands.
So how does this kit stand up to the competition? Well the only real competition is Hasegawa's now-dated 1/32 Spitfire Mk.V with a load of resin aftermarket conversions to render a decent Mk.IX or the Pacific Coast Models 1/32 Mk.IXs. Ruling out the conversion, the PCM kit is less than half the price of the Tamiya kit in the US (in Japan the PCM kit is more expensive than the Tamiya kit - go figure). If you compare this kit against the PCM kit ( look here), the Tamiya kit is significantly more detailed though I prefer the color photo-etched details in the PCM kit and the resin details are also well done.
The PCM kit will be a quicker build, but it won't have the detail and options available in the Tamiya kit, so it is a matter of preference. Nevertheless, I think it is safe to say that the Tamiya kit is now the best Spitfire kit produced in any scale (except perhaps 1:1 scale).
My sincere thanks to HobbyLink Japan for this review sample!
References: