Modelers' Guide to the Skyraider eBook Review
| | | | |
| --- | --- | --- | --- |
| Date of Review | July 2013 | Title | Modelers' Guide to the Skyraider |
| Author | Jay Sherlock | Publisher | Aero Research |
| ISBN | N/A | Published | 2013 |
| Format | 104 pages, PDF | MSRP (USD) | $10.95 |
Review
A few years ago, Aero Research published their first modeler's guide for the A-1 Skyraider ( look here) and it was very well done. As I had mentioned in that review, author Jay Sherlock had taken the title into a better direction for the modeler. First, all the pages are in color. Second, he is focused on the model more than the history and operation of the aircraft. For example in the first image below, he lists recommended kits in 1/48 and 1/72 scale and then references them against the drawing to identify the changes to be made to replicate one of the 35 Skyraider variants in this title. In this example, to modify the Tamiya or Hasegawa A-1H/J kits to an AD-2D nuclear test drone, you make the specific changes identified in the drawing and explained in the list below.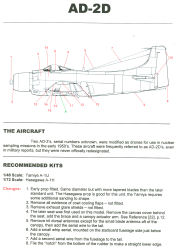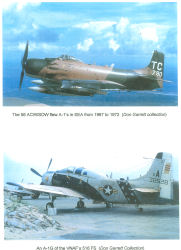 Here we have a reissue of the title in electronic format, specifically a CD-ROM containing an Adobe PDF version of the document. What is nice about this format is that I can keep a copy of this on my iPad to reference while working on my own Skyraider projects. Likewise if you have a computer nearby your workbench to make use of online references during your own builds, this electronic format will also serve you well.
My only wish would be that the author had brought the title up-to-date. Since the time of the publication, Zoukei-Mura had released two versions of the Skyraider with another rumored while Trumpeter has also started releasing the subject as well. It would have been useful for the reader to have assessments of those kits among the descriptions/assessments of the kits available prior to 2011.
You can purchase this title or any of their photo CDs directly from their website www.aeroresearchcds.com or via email AeroResearch@Charter.net.
My sincere thanks to Aero Research for this review sample!