Modelers' Guide to the Sabre and Fury Book Review
| | | | |
| --- | --- | --- | --- |
| Date of Review | April 2012 | Title | Modelers' Guide to the Sabre and Fury |
| Author | Jay Sherlock | Publisher | Aero Research |
| ISBN | 978-0-9851154-0-1 | Published | 2012 |
| Format | 150 pages, softbound | MSRP (USD) | $26.95 |
Review
Aero Research has released a second title in their Modelers' Guide series, this time looking at the North American F-86 Sabre series, the Canadair Sabre series, and the North American FJ Fury series. If you remember Bert Kinzey's Detail and Scale series (many of us have the whole collection in our libraries), Bert would take a subject, provide a brief introduction, then look at each variant with some photographs and scrap drawings to show the differences between each variant. At the end he would survey the available kits and aftermarket products available at that time.
Like the first title on the A-1 Skyraider, Jay Sherlock has taken this into a better direction for the modeler. First, all the pages are in color. Second, he is focused on the model more than the history and operation of the aircraft. For example in the first image below, he lists recommended kits in 1/32, 1/48 and 1/72 scale and then references them against the drawing to identify the changes to be made to replicate one of the 36 Sabre and Fury variants in this title.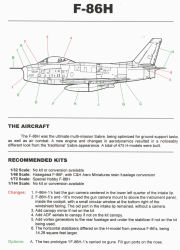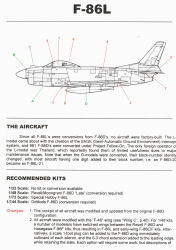 To give you an idea about how thorough the coverage of this title is for the modeler, look at the list of subjects and each one has the diagram, list of kits available in each scale, and the differences/details to be observed:
Sabres:

XP-86
F-86A-1/-5
RF-86A
YF-86D
F-86D-1 thru D-40
F-86D-45 thru D-60
IF-86D
F-86E-1/-5
F-86E-10/-15
QF-86E
F-86F-1 thru F-20
F-86F-25 thru F-35
F-86F-40
QF-86F
RF-86F
TF-86F
F-86H
F-86L
CL-13 Sabre Mk.1
CL-13 Sabre Mk.2
CL-13 Sabre Mk.3
CL-13 Sabre Mk.4
CL-13A Sabre Mk.5
CL-13B Sabre Mk.6
CA-26 Sabre
CA-27 Sabre Mk.30
CA-27 Sabre Mk.31/32

Furies

XFJ-1/FJ-1
XFJ-2
XFJ-2B
FJ-2
FJ-3/-3M
FJ-4/4B
FJ-4F
In addition to these great modification checklists and which kits are the best to start from for any given variant, this title also provides a one-stop reference in the appendices for Serial Numbers, Operating Units, Surviving Aircraft, and available references.
Of course a modeling reference wouldn't be complete without a line-up of available kits and a discussion of the merits of each one.
I was pleasantly surprised to see this new format from Aero Research and I'll be putting it right to work as I finish up my own Sabre and Fury project.
You can purchase this title or any of their photo CDs directly from their website www.aeroresearchcds.com or via email AeroResearch@Charter.net.
My sincere thanks to Aero Research for this review sample!