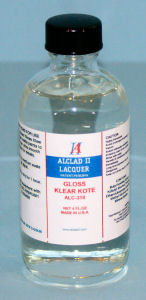 Alclad II Klear Kote Finish First-Look
| | | | |
| --- | --- | --- | --- |
| Date of First Look | April 2010 | Manufacturer | Alclad II |
| Subject | Klear Kote | Pros | Hard finish, can be painted over, masked, and handled w/o fingerprints! |
| Cons | Nothing noted | MSRP (USD) | TBA |
First Look
In the mid-1990s, a product appeared on the hobby shop shelves that revolutionized bare metal modeling. This product, called Alclad, made itself known at the 1995 IPMS/USA convention on an AMT/ERTL 1/72 XB-49 Flying Wing painted in different shades of Alclad. What made Alclad different from other products on the market:
It came in a variety of 'shades' of aluminum, as well as steel, titanium, etc.
It could be applied over other paints
It could be masked and sprayed over
It could be handled without fear of fingerprints!
Alas, as fast as Alclad appeared, it went out of production again when the company closed. It forced many of us to hoard our remaining supplies of Alclad and otherwise shelve any new bare metal projects until something new came along.
Tony Hipp picked up on the Alclad concept and improved it, rendering the Alclad II product line we enjoy today. Over the last 10 years, Alclad II has rendered a number of shades of lacquer-based metalizers that are second to none, and also pioneered the micro-fine versions of those two-colored metallic finishes that appear on custom cars. Model cars now enjoy similar color variations in scale.
While Alclad II doesn't require clear coating for protection (you can handle the finished models without worrying about fingerprints), many modelers wanted to provide protection for their decals. One common product that has been in use for years was Future Floor Wax, a gloss clear acrylic finish that works great for clear coats over flat paints as well as just about any other surfaces. I hear it worked good on floors as well. Unfortunately, the formulation for Future was evidently changed along with its brand name and finding a supply of the original product is getting more difficult.
Alclad II has released a new product that is a clear coat replacement for Future. I was able to test out this new product on two recent builds here and here. Like Future, Klear Kote dries quickly and solid. Unlike Future though, this is a lacquer-based product (it doesn't smell like it though) and it dried in a much thinner coating than Future does. I've shot Klear Kote over Tamiya acrylics as well as ModelMaster enamels and have experienced no problems. In fact, I airbrushed on Klear Kote, applied the decals, airbrushed another coat of Klear Kote, then lightly oversprayed with the original enamel or acrylic colors to dull down the final finish.
One other nice difference between Future and Klear Kote, where I had to thin Future to run smoothly through the airbrush, Klear Kote airbrushes perfectly straight out of the bottle.
You should be able to purchase Alclad II Klear Kote from any retailer that sells the rest of the Alclad II line.
My sincere thanks to Alclad II for this review sample.