Alec Scrabar Tool Review
| | | | |
| --- | --- | --- | --- |
| Date of Review | January 2018 | Manufacturer | Shimomura |
| Subject | Scrabar Type X, Y, Z | Part Number | AL-K79, AL-K80, AL-K81 |
| Pros | Versatile tool | Cons | Nothing noted |
| MSRP (USD) | $32.95 each | | |
Review
Last month, I was able to try out four of the Alec series of scraping and chamfering tools designed for scale modelers. These include the F-V6, RV-6, Lagia, and R-Boko, each with different shapes designed to tackle a variety of surfaces we regularly encounter in our hobby. Several additional tools have since become available including this new Scrabar series.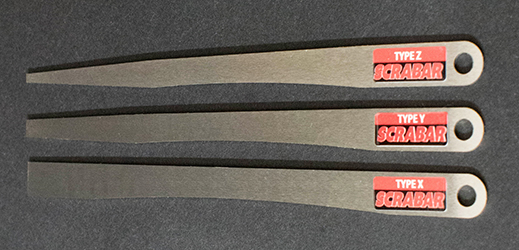 These three tools are about six inches long and are machined from metal twice as thick as the previously reviewed Alec tools to ensure rigidity across the longer scraping surfaces. As you can see in the image below, each of the tools have a different curve radius to address different surfaces you may encounter. The Scrabar Type X, for example, has a 600mm radius curve in one edge and a 10mm wide tip, while the Type Y has a 525mm radius curve and 5mm tip, and the Type Z has a 450mm radias curve and 2.5mm tip. The concave curves are ideal for cleaning up larger curved surfaces such as those found on model cars, science fiction subjects, etc. The varying tips provide scraping surfaces into confined areas of the model similar to the F-V6, but with a longer reach.
The illustration above shows some of the other applications, but with these tools and the others in the Alec series, you have a variety of edge shapes that will provide time-saving methods of cleaning up your models while not creating collateral damage in the process, when used properly.
You can find each of the Scrabar tools (within the US) at HobbyZone USA here!
My thanks to HobbyZone USA for these review samples.