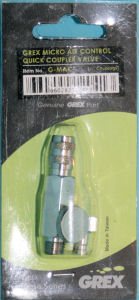 Grex Micro Air Control Quick Coupler Valve First-Look
| | | | |
| --- | --- | --- | --- |
| Date of First Look | December 2008 | Manufacturer | Grex |
| Subject | Micro Air Control Quick Coupler Valve | Pros | Precise airflow control at the base of your airbrush as well as quick-connect capability |
| Cons | | MSRP (USD) | $24.95 |
First-Look
When I decided to acquire a few of the Grex Airbrush Grip Sets ( reviewed here), I spotted a new accessory from this interesting company. Three years ago, I converted my airbrushes and air hoses to work with Iwata's quick disconnects. These are miniature snap-on air line connectors identical in function to those used in auto repair shops to quickly swap air-powered tools on the compressor air hose.
The new item from Grex is the same air hose quick disconnect system, but this time the disconnect unit at the end of the air hose has a valve. With this new gadget installed, you can use your single or double action airbrush as before, but if you suddenly need to get into a confined space or apply a very precise shot of paint, instead of reaching over to the compressor to adjust the main air flow pressure, you can simply dial down the airflow at the bottom of your airbrush for the shot and dial it back up when you're ready to move on. Now you never have to take your eye off the project!
This quick disconnect comes with the valve and adapter for the end of your air hose and the corresponding adapter for the airbrush. The airbrush adapters are available separately so you can convert all of your airbrushes to operate with this valve. Have airbrushes with different size threads or different diameter air hose couplers? Grex (and others) make adapters for those sizes as well. Now all of your airbrushes can work from the same air hose and enjoy the same dynamic control of the airflow right at your fingertips.