Iwata Eclipse HP-SBS Airbrush First Look
| | | | |
| --- | --- | --- | --- |
| Date of First Look | October 2007 | Manufacturer | Iwata |
| Subject | Eclipse HP-SBS | Pros | Precision double-action airbrush, nice balance, pivoting side-mounted cup |
| Cons | | MSRP (USD) | $185.00 |
First Look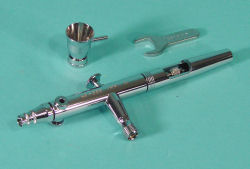 Iwata Eclipse HP-SBS
For those of us who've been modeling 'a while', there have been only two choices for airbrushes - Pasche and Badger. In fact, I own one of each. The Pasche single action airbrush is elegant in its simplicity and is excellent for airbrushing large surface areas. My Badger 150 double action airbrush was used for more precise work, but it began leaking in places it shouldn't and after swapping out various replacement parts, nothing would revive it.
A single action airbrush is one that airflow is controlled by pushing down on a trigger on the top of the brush, whilst paint flow is controllable by twisting the flow tip in and out of the airstream.
A double action airbrush is one where airflow is controlled by pushing down on the trigger and paint flow is adjusted by moving the tigger forward or back which moves a needle valve.
A bottom feed airbrush is one where a removable cup or bottle is attached to the bottom of the airbrush and the vacuum caused by the venturi effect of airflow over the tip draws paint up into the airstream.
A gravity feed airbrush is one with a cup on top of the airbrush where paint flows down into the airstream by gravity and controlled by a needle valve.
In these last several years since my first Iwata experience, I am a true fan. These are well-made instruments that are easy to use, easy to disassemble, and even easy to reassemble after cleaning. I've also figured out my airbrush design preferences:
For close-up work and touch-ups, I really like the HP-AH with the recess atop the brush that only takes a few drops of paint - this is ideal for close-up work and touch-ups.
The workhorse turned out to be the TR2 with its large, side-mounted cup that can pivot as required. How many times have you found yourself shooting up under a model or down from the top, only to find paint running across your hand or worse, dripping out of the cup onto your model? The pivoting cup allow for far more flexibility.
But if you're airbrushing smaller areas and want a smaller tool to get in there, but the top-loading HP-AH won't work, what then? Enter the Eclipse HP-SPS. Iwata sent over this interesting tool in the Eclipse line that is fine for small areas like the HP-AH, but can work in unusual attitudes unlike the HP-AH. That side-mounted cup will even let you airbrush upside-down (if you were so inclined). This brush fills the gap between the HP-AH and TR2 quite nicely.
Don't let that $185 MSRP put you off. This price, and the MSRPs of the rest of the Iwata line have MUCH lower street pricing. A quick check on the internet found 'street prices' ranging from $110-$140, and if you searched a little harder, I bet you could do better than that.
This airbrush is well-suited for detail work and/or working on smaller surfaces. As with the Revolution, this airbrush works well with the same thinned mixtures of enamels, acrylics and lacquers. This one is definitely a keeper.
If you are need an airbrush to cover larger surface areas, you should probably look at the Revolution. If you're airbrushing figures, armor details, smaller ship surfaces, etc., and you want precision in your work to minimize touch-ups, then this is the airbrush for you!
You can find the Iwata Eclipse HP-SBS at your favorite hobby shop and if not, they can special order it for you. In the meantime, you can read more about these and the other cool products from Iwata by visiting their website at http://www.iwata-airbrush.com/