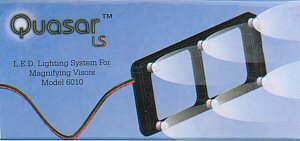 Quasar Lighting System First-Look
| | | | |
| --- | --- | --- | --- |
| Date of First Look | March 2006 | Manufacturer | Novacon Ltd. |
| Subject | Quasar Lighting System | Pros | Broader illumination |
| Cons | | Skill Level | All |
| MSRP (USD) | $24.95 | | |
First-Look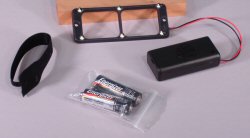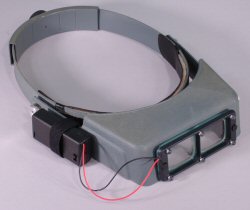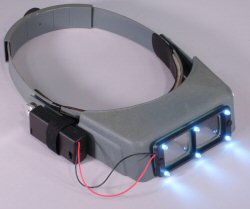 Quasar Lighting System is pictured here installed on my trusty OptiVISOR.
I am a huge fan of Donegan Optical's OptiVISOR. In fact, I have had one for many years and will not work on a model with out my OptiVISOR on my head. When I had an opportunity to review another one, my wife promptly 'procured' the review sample as soon as I'd finished the photography for her own hobbies.
Donegan Optical also released the VisorLIGHT, a clip-on light that was a re-engineered Mag-Light flashlight that would work in line with your vision.
I was recently contacted by a representative from Novacon who offered a different approach to lighting the OptiVISOR. What arrived in the mail was definitely an interesting alternative to the VisorLIGHT.
Rather than clipping a light to the top of the visor, Novacon has embedded six super-bright white LEDs into a new frame that overlays the existing lens on your OptiVISOR. These six LEDs provide bright illumination within the focal range of the lenses. The illumination diffuses rather quickly beyond a few feet, which is just fine since the lenses are not optimized for that distance anyway.
Installation is literally a snap. Unscrew the existing lens mounting screws from the OptiVISOR, replace them with snap pins that run through the light frame, lens plate, and finally through the OptiVISOR itself. Two snaps and the new assembly is in place.
Next, the battery box is held in place on the side of the OptiVISOR using a Velcro strap. Like the mounting pins, this battery box installs and is removed in seconds.
The unit is powered by a pair of AA Energizer batteries. The instructions that accompany the unit show that non-rechargeable AA batteries have the best performance for light brightness and duration. Energizers tested out the best. The worst performers are the rechargeable batteries as they are only 1.2 volts versus the standard battery rating of 1.5 volts.
The unit you see here is a pre-production prototype and may look a little different on the production model.
I gave my sample the dreaded cockpit test. We modelers usually have to move lights around to provide adequate illumination when trying to work inside a cockpit that has been mounted inside the fuselage. These six LEDs light up the interior like nothing I've used before.
LEDs have a much longer lifespan than normal light bulbs, so this should be a tool that will last for several years of solid use. These new bright white (almost blue) LEDs are so bright that looking into them for prolonged periods can cause eye damage (just like visible laser LEDs). Since these are aimed away from you, you are not in any danger of hurting your eyes unless you're working on a mirror or some highly reflective surface.
I don't know what these lights will retail for when they enter production, but let me tell you that I am hooked in just the first few minutes of use.
My sincere thanks to Novacon Ltd. for this review sample!