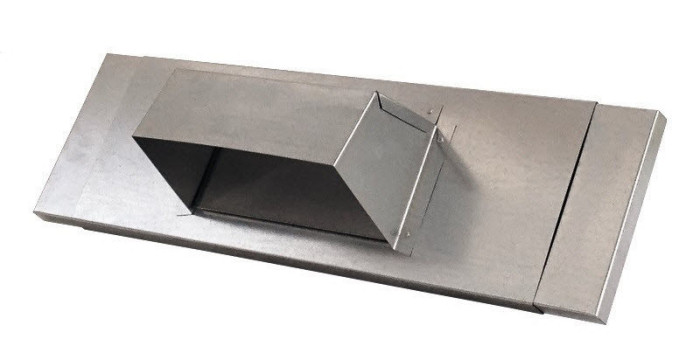 Vent Works Window Vent Insert 4 Inch Dual Review
| | | | |
| --- | --- | --- | --- |
| Date of First Look | July 2014 | Manufacturer | Vent Works |
| Subject | Window Vent Insert 4 Inch Dual | Media | Galvanized Steel |
| Pros | Provides removable spray booth exhaust duct in standard windows | Cons | Nothing noted |
| MSRP (USD) | $49.97 | | |
Review
Here is an interesting product to consider if you have a spray booth in your workshop. The folks at Vent Works have come up with a simple but elegant way to have an exhaust duct vent outside your workshop while keeping nature outside as well. This is a 24 gauge galvanized steel window insert with essentially a pair of clothes dryer ducts built into it. The insert is about 8.25" high and will rest in virtually any vertically opening window. There are slides on either side of the insert which allow the width to be adjusted between 24 and 36 inches.
The top image shows the exterior side of the vent with a protective hood to keep precipitation from coming inside. Under the hood, there is a spring-loaded flap that keeps the vents closed when the exhaust fan is not running to also keep the wind and weather outside. The middle image shows the inside view with the dual four inch ducts. The adjustable width slides are at the narrowest width. In the bottom image, you can see the adjustable slides are slid out to near maximum width.
Up until now, I've been using an Artograph spray booth with Mr. Super Booth Vent Attachments to get the exhaust outside. While these have worked fine over the last ten years, they require the window to be open almost an inch while these are in use. That's fine except in the winter time when the winds are blowing arctic air into the workshop or during the summer when the more aggressive bugs try to get inside.
This Window Vent system allows me to add insulating strips to the edges to help keep the weather (and insects) out and have the option of leaving the vents in place or remove it as needed. This system is not only handy for spray booths, but if you're living somewhere that doesn't have external ventss available for a clothes dryer, this can solve that problem as well.
This is a nice simple design that will fit most modelers' needs while remaining removable for those times when you need to secure the window. If you've held off purchasing a spray booth because you didn't have a good solution for venting fumes outside, your wait is also over.
If your spray booth has dual fans/ducts like my Artograph, this is the solution you need to effectively vent your paint fumes outside. If your spray booth has only one fan and duct, then you need to consider this vent instead.
You can purchase this product directly from the manufacturer here.
Definitely recommended!
My sincere thanks to Vent Works for this review sample!